Germans tout renewables, energy efficiency products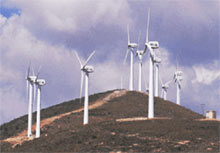 Santo Domingo.- Seven German business leaders visit the Dominican Republic to promote renewable energy and energy efficiency products in the local market.
"This activity aims to present innovative products from German companies to the Dominican market. We currently have seven German companies with Solar-thermal products, photovoltaic plants, wind energy, biomass production, energy storage, isolated systems, among other interesting innovations in the area," said Dominican-German Chamber of Commerce director Frauke Pfaff.
The business leader headed the conference "Decentralized Energy Supply with Renewable Energy in conjunction with the German Chambers of Central America.".
"The conference is a highly commercial activity, which means that presentations are technical because the desire of companies is to bring their products to the Dominican market," Pfaff said.
"That's the purpose of this event. That is why we're organizing face-to-face business meetings with these entrepreneurs, institutions and developers of this project since two weeks ago."
He said a market study showed a very favorable market in the Dominican Republic "and the political conditions have been improving and are still improving, reforms are being designed and the interest in general is very high."
Pfaff added that the promotions thus far have reached more than 800 entities or institutions from different sectors. "Today we have 150 people and we have more coordinated meetings with interested companies."