In 'Year of water,' highland city has none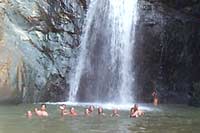 Santo Domingo.- Despite that as much as 65% of the country's water supply comes the northern region, the city of Jarabacoa's is meager, said José Tejeda president of the highland town's Support Council.
Tejeda said the construction of an aqueduct, sewage system and sewage treatment plant in the municipality has been requested to president Danilo Medina through various channels but no response thus far.
Accompanied by Support Council members Andrés Dilonex and Jordi Hernández, Tejeda said, construction of the aqueduct is halted since 2003 with 35% advanced.
Tejeda, quoted by listin.com.do, said Medina ironically declared 2018 as the 'Year of water,' something they don't have in Jarabacoa.
He noted that over 50 neighborhood boards, including the authorities of La Vega province, have joined their struggle to finish the project, at a cost of around RD$860.0 million.
"Within the objectives of the municipality is to not exert any social pressure, or marches, but trust that the president will hear our pleading. What is needed is the conclusion, only 65% ​​to go."