Law lets govt. sell up to US$1.5B in State-owned assets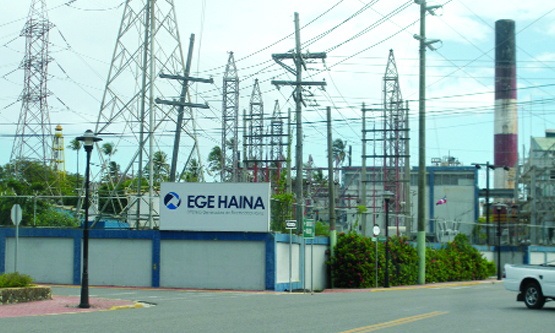 EGE-Haina
Santo Domingo.- With the recently approved Financing Law 2018, Congress authorized the Executive Branch to sell the capital shares or stake in State-owned companies or projects up to an amount not higher than 5% of the public debt of the Non-Financial Public Sector (SPNF).
That means that the operation -or the transactions, because there could be several- should not exceed US$1.5 billion. That sets as reference the value of the SPNF debt of US$29.1 billion as of last October.
When Budget (Digepres) director Luis Reyes, went to the Chamber of Deputies Finance Commission on Nov. 30, he said there was no ulterior motive in that proposal: it's about partially dispensing of shares in the Punta Catalina power plant when its construction ends. "Once operational, it's desirable for the Government to be able to do that operation and restore the investment that has been made in it."
However, the law that allows the Executive to issue public debt in 2018 doesn't expressly state that what is to be sold is Punta Catalina, and leaves the door open to operations involving any state enterprise, including initiatives in the project phase. "The Executive Power is authorized to carry out operations for the sale of shares and / or capital shares of companies owned by the Dominican State or projects, for up to the maximum amount of 5% of the debt of the non-financial public sector, for the purpose of limiting any new increase in public debt, promote operational sufficiency and increase sectoral productivity," says article 10 of the law.
While acknowledging that the legal text does not specify the operations that may involve, the economist José Rijo highlights that the only project available to the government for an amount of such magnitude is Punta Catalina.
He said a sale of the Energy Distribution Companies (EDE) or of the State's stake in EGE Haina would have been embodied in the Electricity Pact, and they are not in the final document. On the other hand, the management of the Punta Catalina power plant is not tied to the pact because it was not included.
Another large company that is partially in the hands of the State is the refinery Refidomsa, but government sources quoted by diariolibre.com have indicated that currently there is no interest to sell off the 51% stake it owns. The rest of the package is in the hands of the Venezuelan government, through PDVSA.
Approved
Before president Danilo Medina signed it into law, legislators Faride Raful and Francisco Paulino issued a dissenting report precisely because of Article 10's ambiguity. "The National Congress cannot continue granting general powers and authorizations to the Executive to act as it does," the report says.