5% growth projected for 2018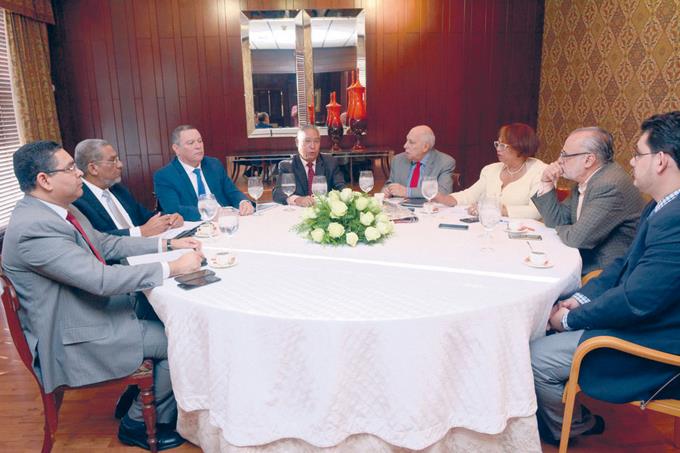 Isidoro Santana, Juan Guilliani Cury, Iván Rodríguez, Roberto Liz, Alexis Cruz Rodríguez, Juan Carlos López and Edwin Ruiz. Credit: listin.com.do
Santo Domingo.- The Minister for Economy, Planning and Development, Isidoro Santana, stated that the economic growth trend is expected to reach 5% at the end of this year, and projected to continue increasing.
"It is very likely that we will end at 5%, more than was projected mid-year and expectations for next year are good. There is nothing on the horizon to make us fear any kind of economic slowdown," said Santana. On the tax front, the government has made progress in the consolidation and the deficit on which they operate has been reduced. "Every year we prepare the budget and execute it on a deficit slightly lower than the previous year."
For 2018, the fiscal deficit approved in the national budget is 2.2% of GDP, as a way of maintaining economic confidence.
The Dominican Republic has shown significant progress in its fiscal indicators, according to vice minister Iván Rodríguez, who pointed out that even the International Monetary Fund (IMF) had assessed it as "a very positive element in president Danilo Medina's administration."
Between 2007 and 2016/2017 the country had registered negative values in terms of fiscal consolidation. However, the current indicator is positive, because the primary balance (difference between the total public sector revenue and expenditure, minus interest payments) is above 1% of the GDP.
Minister Santana was speaking at a meeting organized by Listin Diario newspaper, coordinated by economist Juan Guilliani Cury, with vice minister for planning Iván Rodríguez; Juan Carlos López Pérez, coordinator of the Macroeconomics section; Roberto Liz, general director of Economic and Social development; Alexis Cruz Rodríguez, director of the Economic and Social analysis unit and Edwin Ruiz, communications director at the ministry.