Economic policies perpetuate poverty and inequality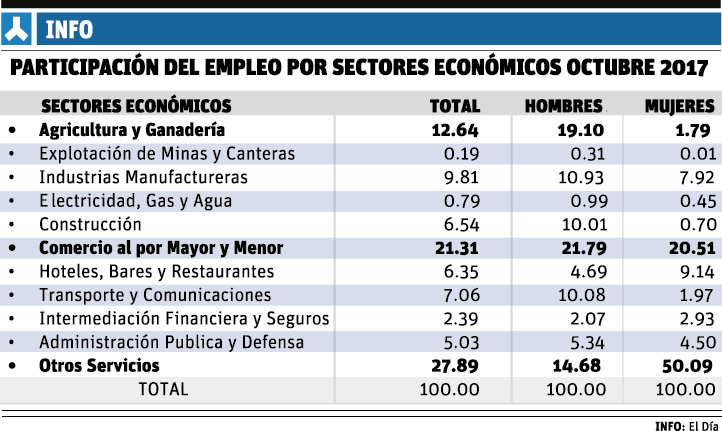 Employment data by sector. Credit: eldia.com.do
Santo Domingo.- The Dominican Republic's economic growth rate over the past three years exceeds 6%, leading to the creation of 403,076 new jobs and reducing the unemployment rate from 8.8 to 5.4% during this period.
However, most new jobs tend to be created in economic sectors with low pay and work productivity, perpetuating the unequal wealth distribution cycle.
The three sectors with the highest increase in employees are agriculture and trade, wholesale and retail trade and "other services," which includes domestic workers, beauty salons and other small businesses.
These account for 61.84% of jobs in the Dominican Republic, according to a report by the Economic Faculty of the Autonomous University of Santo Domingo (UASD). Although Central Bank statistics show that 4.3 million people were in employment in the second quarter of 2017, just over 2.1 million were working in these sectors.
"This means that public policies have not succeeded in transforming the country's productive structure, which goes some way to explain the fact of having had a high level of economic growth, while the levels of poverty (33%) and inequality (0.50) have remained relatively high," says the UASD economic report.
Salaries earned by workers in the trade sector are defined by three categories of companies, establishing a minimum monthly wage of RD$9,411.60 for small businesses, RD$10,620.00 for medium-sized businesses, and RD$15,447.60 for large businesses.
In the "other services" category wages vary, while in agriculture workers are paid RD$59 per hour, for a monthly wage of RD$11,328 based on an eight-hour working day.