Planned dam to produce RD$280.0M-month of energy at border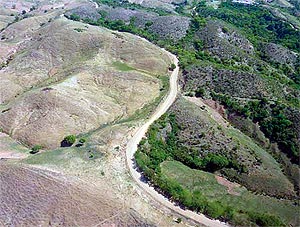 Artibonito, river basin deforestación. Photo UNEP
Santo Domingo.- Senator Adriano Sánchez Roa affirmed Sun. that in the 2018 Budget president Danilo Medina included the economic items for the studies and subsequent construction of a dam on the Artibonito river (west), which he affirms would help fight poverty along the Dominican-Haiti border.
"Within his strategy to fight poverty, the Chief Executive ordered the studies of this work that will transform Pedro Santana and Bánica, since the irrigation of hundreds of thousands of hectares of land is contemplated with the water from the Joca and Tocino rivers," said the lawmaker of the ruling PLD party.
He specified that the hydroelectric plant will produce 52 megawatts, enough to cover the energy required by the provinces of the region of El Valle, San Juan and Elías Piña.
Sánchez said the Artibonito dam will produce energy worth RD$280.0 million per month; store water for aqueducts and reduce sediments along the riverbank.
He said despite that the dam could irrigate ​​the country's second poorest area, it will only generate energy, so that the Artibonito's course won't be changed or reduced.
The senator for Elías Piña province added that Medina wants to increase the inflow of water into the Dominican Republic and Haiti.