Canned Agro leaders willing to 'Dominicanize' workforce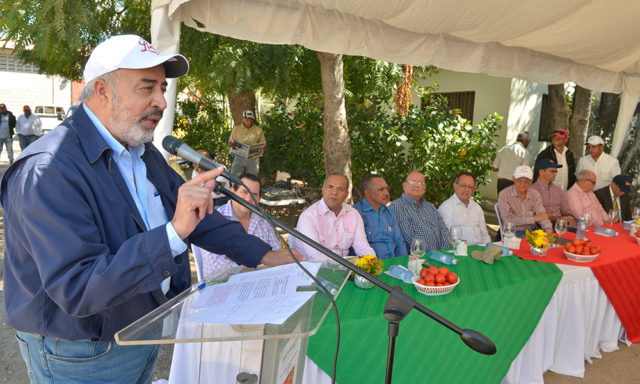 Azua, Dominican Republic.-  Canned Agro Producers Association (Afconagro) president Felix M. Garcia on Thurs. said yesterday agro leaders are willing to increase the "Dominicanization" of the border and sacrifice some profits to integrate the local workforce.
In the welcoming remarks to start the harvest of the industrial tomato (#69) the business leader stressed that producers are willing to assume, together with the govt., the challenge of increasing primary agro exports in the next two years, from 2.0 billion dollars, as president Danilo Medina has stated, to US$2.5 billion.
"And it is now (…) gentlemen, let us return and give validity to the concept that we are an eminently agricultural country," Garcia said in the activity that included a field day and a visit to three farms affiliated to Afconagro.
Among the companies that sponsor or finance tomato production figure Transagrícola S.R.L (Linda); Peravia Industrial (La Famosa), and Victorina Agroindustrial (Victorina).
Present at the field day were Agriculture minister, Ángel Estévez,; Dams and Canals director, Olgo Fernández; Agricultural Bank administrator, Carlos Segura; Transagrícola president Miguel Sánchez, among other growers.