Top official scoffs at US claim that China ties bring 'instability'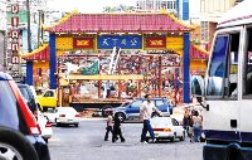 Chinatown SD
Santo Domingo.- Executive branch Legal consultant, Flavio Darío Espinal, on Thurs.  said Dominican Republic's decision to forge diplomatic ties with China was based on the national interest and rebuffed that it could create instability in the region.
"The People's Republic of China is an economic reality of the first order," he said, noting that as the world's second economy, has available capital.
"We don't think that the establishment of relations with China, in any sense, can generate instability," said the official in response to Washington's claim that China's agreement, "contribute to regional instability."
"It is a reality that China is present in Latin America, it is a country that as it has grown economically has an increasingly global presence, and that is a reality of today's world, and the United States knows it," Espinal said at the session of the Inter-American Commission on Human Rights (IACHR).