AES, Barrick strike a 10-year natural gas supply deal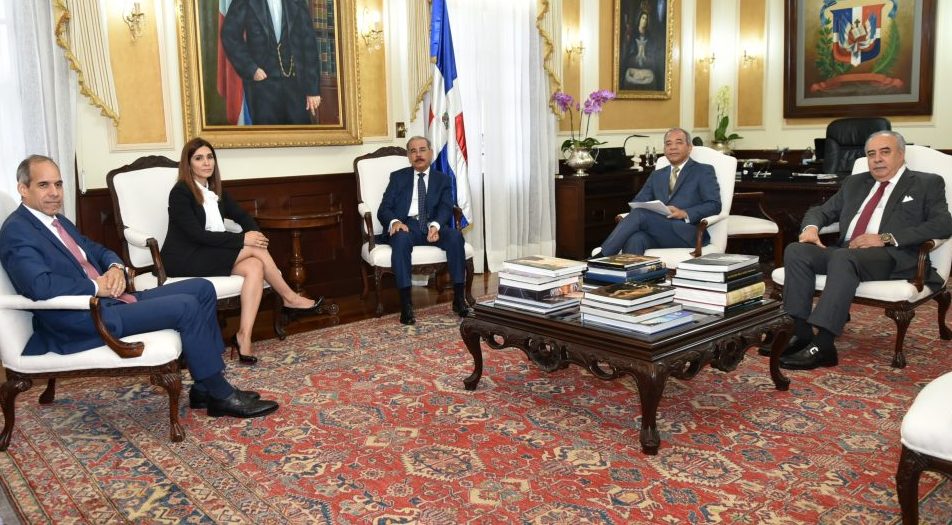 Edwin De Los Santos, Juana Barceló, Danilo Medina, Rubén Jiménez, Felix García.
Santo Domingo.- The companies AES Andrés, subsidiary of the AES Corp. and Barrick Pueblo Viejo, announced the signing of a 10-year natural gas supply agreement, which will lower the operating costs of the 215 megawatt Quisqueya I power plant,.
The announcement was made during a National Palace meeting with president Danilo Medina, Barrick Pueblo Viejo president Juana Barceló, State Electric Utility (CDEEE) CEO Rubén Jiménez Bichara, AES Dominicana president Edwin De Los Santos and Felix García, stakeholder of the energy group.
The agreement stipulates that AES Andrés will use 12Tbtu of its storage and regasification terminal to supply Quisqueya I, owned by the mining company, located in San Pedro de Macorís, east of the capital.
Jiménez said the agreement is key to diversify the fuel matrix, with the construction of a gas pipeline from Andrés to San Pedro that will spur the future conversion of other fuel oil power plants to natural gas.
"In the area where Quisqueya I operates, there are power plants with an installed capacity that exceeds 900 megawatts and will eventually be able to convert to natural gas and take advantage of the supply potential through the new gas pipeline that AES will build," the official said.
Sustainable operation
"With the signing of this agreement we reaffirm our commitment to operate in an environmentally sustainable manner, ensuring that our operation is always friendly with our environment," said Barceló.