Seven cities start push to shutter trash dumps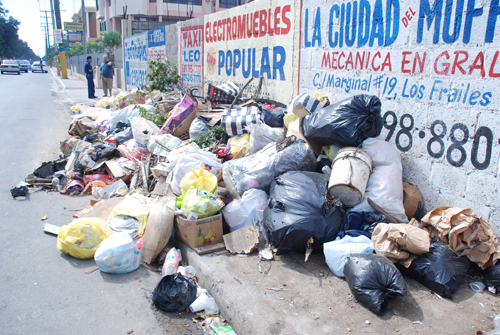 Seven cities sign off on push to shutter dumps
Santo Domingo.-  Seven municipalities and a municipal district signed the first agreement coordinated by Dominicana Limpia (clean) to transfer resources, as required by the Economy Ministry and the Office of the Budget, in the program to shutter trash dumps.
In a press conference in the Dominican Municipal League to mark Recycling Week, the mayors and representatives from Azua, Santiago, Moca, San Francisco DM, Puerto Plata, Santo Domingo Este, Villa Altagracia and Verón township signed the agreement.
At the eight sites, the technical process to shutter the existing landfills will begin, of the 17 selected for this year, due to their important location as densely populated tourist areas.
Presidency special projects director Domingo Contreras said the National Public Investment System requires the signing of the protocol to disburse the funds allocated to Dominicana Limpia, which aims to transform the final destinations of solid waste and eliminate open dumps.
"By taking this step the process of the different requirements is closed and we face June, which is the date we have placed, on June 27, which is the first year of the launch of Dominicana Limpia, for that from this moment we will place ourselves in the final destinations with the equipment."
He said the 2018 budget allocated to Dominicana Limpia is RD$940.0 million from a total of RD$1.9 million until 2020.