US Embassy, Public Contracting train judicial servers on procurement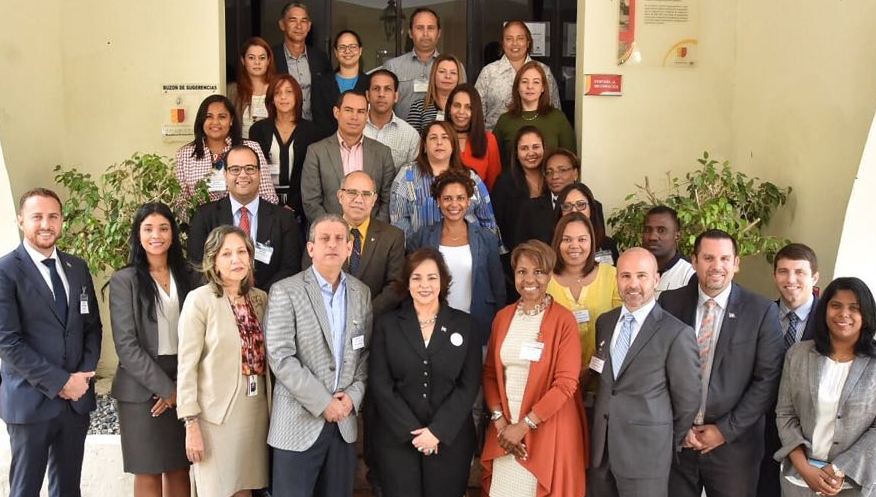 Press Release
Santo Domingo.- With the objective of continuing to strengthen the competences of the judges of the Superior Administrative Court and the Legal Administrative Staff of the Judicial System, the workshop "Contractual Management and Labor Regimes" was held at the headquarters of the National School of the Judiciary.
The meeting "challenges in public procurement" was organized by Public Contracting in coordination with the Program for the Development of Commercial Law (CLDP) and under the auspices of the government of the United States through its Agency for International Development (USAID) .
During the opening of the event, Dr. Yokasta Guzmán, general director of Public Procurement, said "it is very important for us to be in the National School of the Judiciary. This type of activity reflects the society in which we are living, where the Public Administration, the Judicial Power and society work together. That is what we are pursuing today," she said.
He indicated that the money from public purchases is the only one that the administration has to develop the country. "That is why we use the power of Public Purchases as a tool for the development of MSMEs, women and productive sectors, in order to eliminate subjectivity as much as possible in order to make more transparent procurement processes," said Dr. Guzmán.
For his part, the Chargé d'Affaires, a.i. of the Embassy of the United States, Robert Copley said that "strengthening transparency mechanisms in the bidding and public contracting processes guarantees that more resources are directed to improve access and coverage to public services for Dominicans, which results in benefits for all. This program highlights the commitment of the United States government to transparency and our collaboration with the Dominican people to build a prosperous, secure and democratic Dominican Republic. "
Moreover, the director of the National School of the Judiciary, Dr. Gervasia Valenzuela, said that this type of activity strengthens the competences of members of the Judiciary and can be put into practice immediately.
"With activities like this, the School fulfills its mission, since we work for the excellence of the Judicial System. I thank the management for getting involved, because this knowledge strengthens the competences of the judges and the administrative legal areas," said Valenzuela. The training is derived from the agreement signed in 2017 by the National School of the Judiciary and the General Directorate of Public Contracts with the aim of sharing knowledge.
The workshop was given by international experts: Patricia Campbell-Smith, Judge of the Federal Court of Requests (COFC) of the United States; Charles McCarthy, Regional Council, General Services Administration (GSA) and Contracting Analyst, Department of Veterans Affairs (VA), Rafael Taylor Arenas.
Participants included Adam Al-Sarraf, Advisor-International and Daniel Butterfoss, specialist in International Programs. They represented the Program for the Development of Commercial Law (CLDP).