'There's cash in that thar trash' official says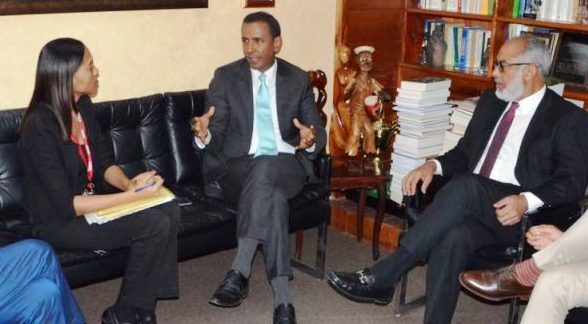 Domingo Contreras answers a reporter, with Persio Maldonado.
Santo Domingo.- With World Environment Day on June 5 as a backdrop, Presidency Special Programs (Digepep) director Domingo Contreras on Wed. said one of the country's great challenges and opportunities is to transform "the chaos of garbage into a big industry."
In a visit to El Nuevo Diario editor-in-chief, Persio Maldonado, the official stressed the State's need to seek out the new generation to take on the challenge of a "clean" Dominican Republic and which can see income in solid waste.
Paper, plastic, tires, cardboard, glass and organic waste can be transformed into opportunities, that "far from being an environmental liability that represents a high cost in health, to the environment, damage the landscape and waste of resources, can become a different dynamic."
Contreras added that one way to achieve those changes is to see how the "Dominicana Limpia (clean)" program has focused on the need to value the waste and create economic incentives through a law, as well as implement the citizenship's obligation.