Govt. aims to renegotiate trade pacts with the US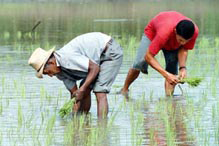 Santo Domingo.- The Dominican Government on Thurs. announced the start of talks with the United States to renegotiate the multilateral trade agreements with that nation.
The talks aim to modify the Free Trade Agreement with the US and Central America (DR-CAFTA) to delay the timetable for dismantling tariffs on some agro products, that starts in 2020.
Standing out among them is rice, which currently has a 99% tariff, but start to decline as much as 20 percent each year from that date, until a total clearance by 2026.
"There's no way we can compete with the big countries," National Small and Medium Rice Producers Council president Apolinar Germosén told El Dia. "That's why we want the calendar to be delayed 10 or 12 years. If not, we go bankrupt."
Agriculture minister Osmar Benítez made the announcement, at the 7th Annual Convention of Rice Markets and Technologies 2018 being held in Punta Cana (East) with 35 delegations from Central and South America , as well as the US.