Embassy touts Dominican produce at London Fair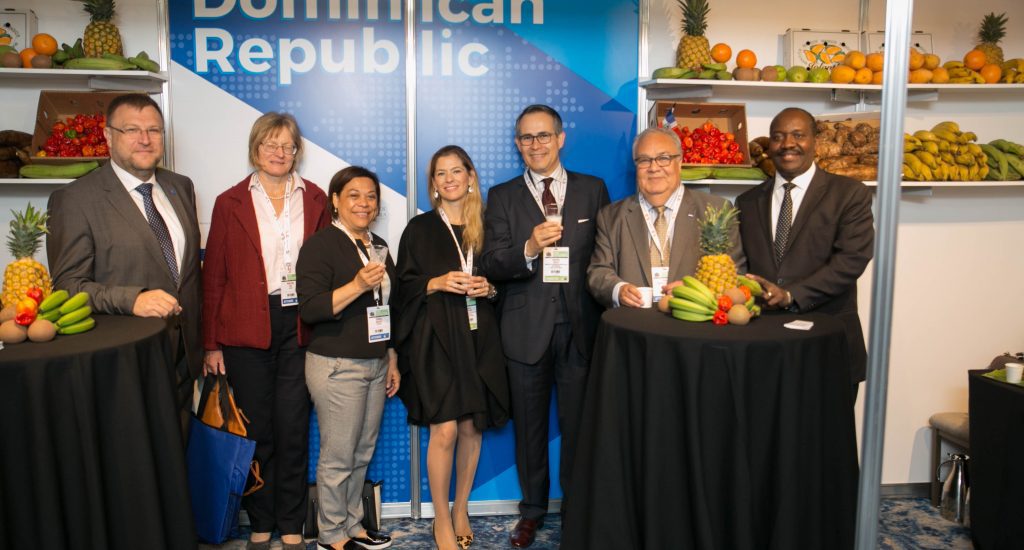 F. Cuello, 3rd from right. Photo elnuevodiario.com.do
London.- The Dominican Embassy in the United Kingdom over the weekend showcased the fresh Dominican products at London's international fair Produce Show, which takes from June 6 to 8.
Dominican Republic's Export and Investment Center (CEI-RD) and the Agriculture Ministry collaborated in the inaugural of the Dominican Embassy's pavilion and sponsored by Tropifruit,
Ambassador Federico Cuello praised the government's "untiring efforts as a whole to improve the positioning of Dominican products, particularly in the British market, as part of the campaign of the Year of the Promotion of Exports decreed by President Danilo Medina."
"The United Kingdom is the main bilateral market we have in the European Union. We grew 102% from 2010 to 2016. In 2017 the hurricanes cut back our exportable supply and for that reason we dropped 20% which now, in this year of exports, we must recover for the benefit of the affected producers." Cuello said, quoted by elnuevodiario.com.do.
The British market is the main destination for Dominican bananas, with an increasing interest in avocados and mangoes, which are harvested at times of the year during which no other country has an offer and are placed by plane in less than 9 hours from Punta Cana, the diplomat said.
"The fair is the event of the year that allows us to position ourselves in the United Kingdom, in order to also promote other fresh products in great demand, of which the pineapple stands out. It gathers the most important companies of purchase and distribution of fresh products in the United Kingdom," Cuello said.
Attending the Dominican pavilion since early morning were ambassadors, commercial attaché and other high-level representatives of importers, who are treated to tasting sour sop shakes, hot chocolate, fruit salads, coconut bread, coffee and other "Creole" delicacies.