Housing and habitat, expectations for Latin America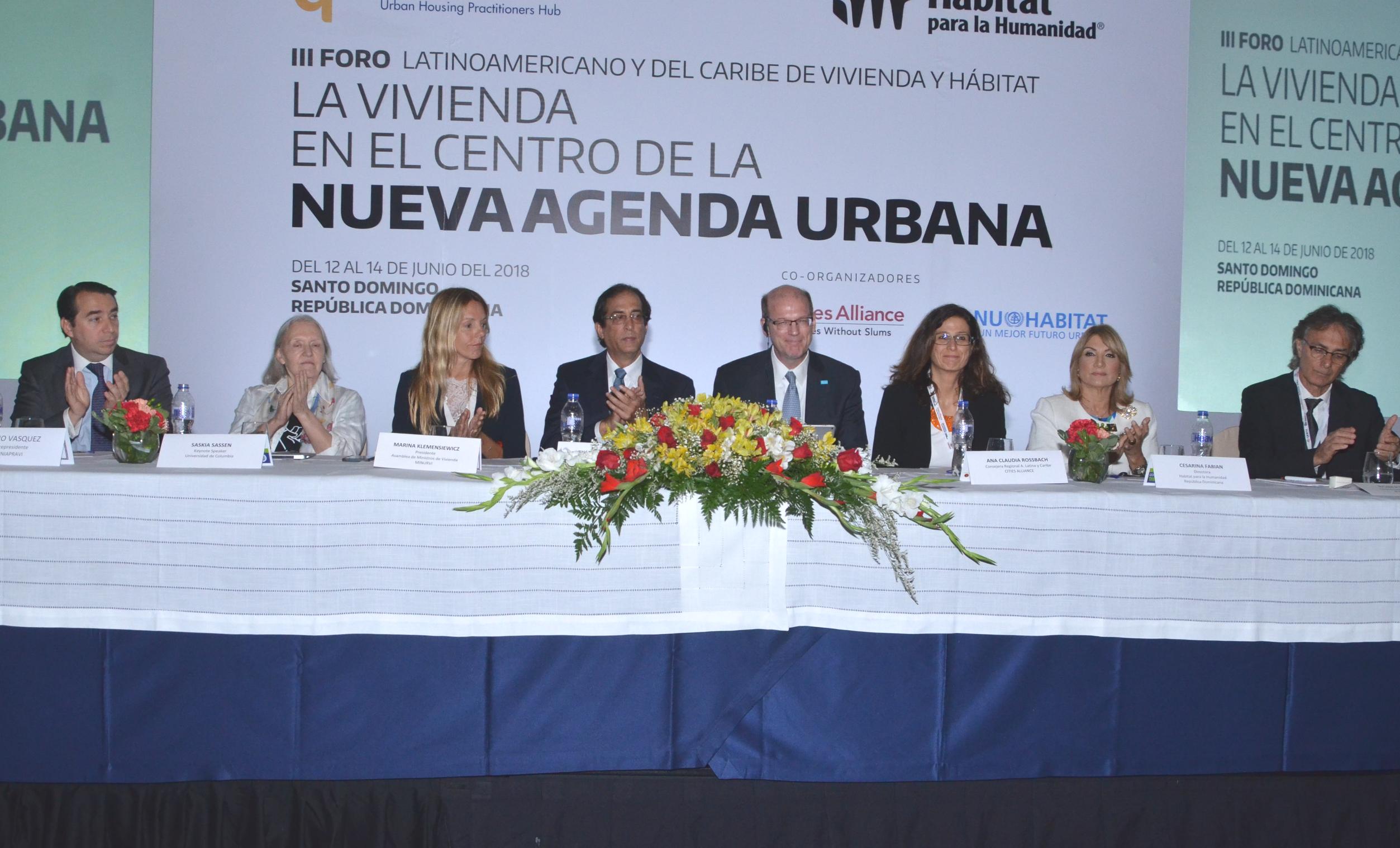 Roberto Lippi, Saskia Sassen, Marina Klemenciewicz, Gustavo Montalvo, Jonathan Reckford, Anaclaudia Rossbach, Cesarina Fabián. Tulio Vásquez.
"Housing in the center of the New Urban Agenda"
Press Release
Santo Domingo.- Over 600 professionals from the housing, construction, habitat and urban development sectors of the United States, Latin America and the Caribbean, attended the inaugural of the III Latin American and Caribbean Forum on Housing and Habitat: "Housing in the center of the New Urban Agenda," organized by Habitat for Humanity, together with Cities Alliance, UN Habitat and with the special collaboration of the Government of the Dominican Republic.
Jonathan Reckford, CEO of Habitat for Humanity International, said that the institution works actively in the Caribbean region to help families have a better future in a decent and accessible home and for this third forum they chose the Dominican Republic as the seat for the importance of the region due to its vulnerability and exposure to natural disasters.
"The residents of Haiti are still recovering from the earthquake in 2010, and Hurricane Matthew in 2016 brought another wave of death and damage there, as well as in the Dominican Republic. We continue to learn more with the storms of late last year that caused havoc throughout the Caribbean. These events reaffirm to us how vital it is to invest in resilience and preparedness, rather than simply responding to disaster," said Reckford.
In the presence of Marina Klemensiewicz, President of MINURVI and Secretary of Urban Infrastructure of Argentina; Anacláudia Rossbach, Regional Councilor for Latin America and the Caribbean of Cities Alliance; and Gustavo Montalvo, Minister of the Presidency,
Reckford highlighted the launch of the Urban Housing Practitioners Hub (UHPH), a platform that combines a digital space with personal interactions with which they seek to "mobilize, convene, promote and maintain a continuous dialogue and exchange of practical ideas on how to keep housing at the center of the new urban agenda."
Montalvo, said the Government has developed three strategies to promote decent housing such as financing, mainly through trusts, the improvement of housing and renovation of marginal and at-risk habitats, as well as the formalization and regularization of property through titling, which provides legal security to the poorest families and helps the country's development.
"Through these strategies, specifically financing, the supply of homes has gone from 10 thousand to 100 thousand units, and the range of suppliers of units below 50 thousand dollars increased from three, which were in 2013, to 80 that they are today."
The forum's keynote address was by Dr. Saskia Sassen, sociologist, professor at Columbia University and laureate of the Prince of Asturias Award for Social Sciences in 2013, for her contributions to the understanding of the phenomenon of globalization and urban sociology.