Agro chief's statements on Valle Nuevo rile environmentalists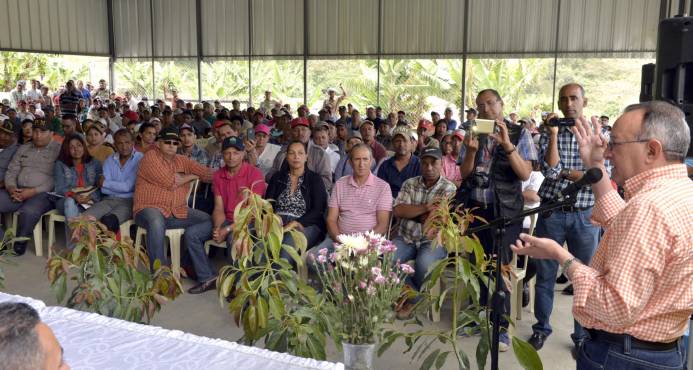 Santo Domingo.- Environment minister, Ángel Estévez, on Sun. told farmers in San José de Ocoa (central) that they need to leave short-cycle crops behind to make way for an agro-forestry production with coffee and avocado.
The official's statement alerted environmentalists who fear that the plan will hobble the recovery of Valle Nuevo National Park.
"We are convinced that Estévez's statements have been made with all the good faith of continuing to contribute to the development of the country and the people of the countryside, but it is obvious that he refers to communities that are not within the Valle Nuevo and if not so, surely as soon as he becomes aware that promoting agricultural exploitation in a protected area is not only illegal but also in violation of the Ministry resolutions, this plan will be reformulated," the Green Action Foundation said on its website.
For its part, the SOS Ambiente RD group warned that on the Ocoa side farming has been eating away at the water-producing forest. "The farmers who operate illegally within the Park, on the side of Ocoa, had a deadline to leave that was not complied with,… It never ceases to amaze us that (the minister) ignores and intentionally abandons the Valle Nuevo rescue plan undertaken by that Ministry, and that it was implemented on the side of Constanza."
"We cannot continue producing here," Estévez said, "not because we want to take them away, no, that's not it, that's not what the government wants or what the authorities here want, it's that if we do not preserve the waters that are produced in the mountains, the ones below are going to die (…) But here we have to produce something that is much more profitable than what you are producing now, than in a small area that you sow onion or of potatoes or tomatoes you can earn double or triple if you plant it with avocado or coffee," Estevez said.
SOS Ambiente RD however reminded "the minister and the country" that Valle Nuevo is part of the Mother of the Waters area, which produces water for seven out of every 10 Dominicans, and that "its conservation is not an option for the minister in charge, but its legal and constitutional mandate."