As FDI for LatAm, Caribbean falls, Dominican Republic fares well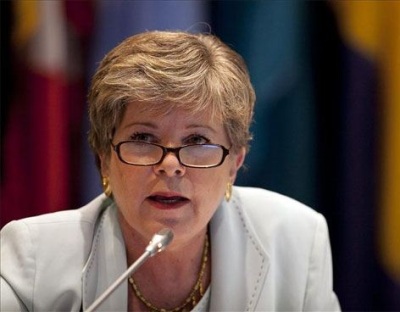 Alicia Barcena. File
Press Release
Mexico City.- In a new annual report, ECLAC calls on governments to incentivize quality investment that is compatible with sustainable development. Despite an international context characterized by stronger growth in the global economy, abundant international liquidity, high corporate returns and optimism in financial markets, the flows of Foreign Direct Investment (FDI) in Latin America and the Caribbean – on average, and with great heterogeneity within the region – fell for the third year in a row in 2017 to total $161.673 billion dollars, down 3.6% from the previous year and 20% below the level reached in 2011.
This is according to the report Foreign Direct Investment in Latin America and the Caribbean 2018 released today by ECLAC at a press conference in Mexico City led by its Executive Secretary, Alicia Bárcena.
In this document, the United Nations regional commission calls on governments to incentivize quality FDI that is compatible with sustainable development, above all to promote a change in countries' productive structures that enables the fulfillment of the 2030 Agenda and its Sustainable Development Goals (SDGs).
The report by the Economic Commission for Latin America and the Caribbean (ECLAC) explains that in a medium-term analysis, the persistent fall in FDI since 2011 can be attributed to lower prices for basic export products, which have significantly reduced investment in extractive industries, and to the economic recession experienced in 2015 and 2016, mainly in Brazil. These two trends, however, were partially reverted in 2017 when the region resumed growth (1.3% of GDP) and the prices of oil and metals picked up.
This uptick in prices raised the returns on investment after several years of declines, which also encouraged reinvestment of profits, albeit not enough to make up for the fall in FDI in the extractive industries, the report indicates.
While in 2016 the vast majority of countries in the region saw declines in their FDI inflows, in 2017 FDI rose in the majority of them. However, drops were experienced in Brazil (where it fell 9.7%) and Chile (-48%), and to a lesser extent in Mexico (-8.8%).
In Central America, FDI rose for the eighth straight year (to $13.083 billion dollars), with a particularly notable increase in Panama, which reached $6.066 billion dollars.
In the Caribbean, flows grew 20% to $5.835 billion dollars, more than half of which (60%) went to the Dominican Republic. In these countries, increased investment in the area of tourism has been very significant, but flows to the natural resources sector have also grown in Jamaica and Guyana.
According to ECLAC's FDI report, the main sources of foreign direct investment to the region in 2017 were the European Union and the United States, respectively. The prevalence of Europe is particularly striking in South America, while the United States continues to be the main investor in Mexico and Central America.
In the medium term, the fall in FDI in the region that has been occurring since 2011 until today has been concentrated almost exclusively in the natural resources sector, with a 63% drop. FDI inflows in the services sector fell 11% while rising slightly in the manufacturing sector.
This rearrangement creates opportunities to focus investment on those sectors with more capacity to drive structural change and sustainable development in the region, a process that must be accompanied by policies that support capacity development in recipient countries.
"It's not simply about creating the conditions for foreign capital to enter, it's about attracting investments that become sources of technological, productive and employment-related overflow, and that are oriented toward sustained, inclusive and sustainable economic growth," Bárcena underscored.
The report emphasizes that sectors such as renewable energies, telecommunications and automobile manufacturing are examples of how FDI can contribute to diversifying the productive structure, improving local capacities, creating quality employment and generating linkages with local and regional providers.
In this sense, rising investment in the automotive sector in Mexico and Brazil stands out, or in manufacturing and services for export in Central America and the Dominican Republic (both issues are addressed in separate chapters of the publication). However, these cases are still insufficient to achieve a productive transformation in the region, the report warns.
According to the document, global trends also point to stability and for 2018 there is no change forecast in the scenario, meaning that FDI inflows to the region will remain stable around the value seen in 2017, with a margin of error of 2%.
It adds that the international context of uncertainty favors a growth pattern in leading countries in which domestic investment and local capacities are key factors. Despite the recovery in raw material prices and interest in new products such as lithium, the great flows of FDI into natural resources seen in the last decade will not be repeated, ECLAC affirms.
Meanwhile, FDI outflows from the region's countries fell more sharply than inflows and totaled just $23.416 billion dollars in 2017, 34% below what was notched in 2016 and less than half of what was seen in 2014.
Translatina companies, which had greatly expanded between 2006 and 2014, did not manage to diversify their strategy beyond extractive industries or the search for markets in other countries of the region, which meant that in a context of recession (or low growth, depending on the country) and lower prices for oil and minerals, they have had to restrict their operations abroad or, at least, halt their growth.
More information:
*   Briefing paper. Foreign Direct Investment in Latin America and the Caribbean 2018<http://www.cepal.org/en/publications/43690-foreign-direct-investment-latin-america-and-caribbean-2018-briefing-paper>.
*   Tables. Latin America and the Caribbean: Foreign Direct Investment inflows by recipient countries and subregions; and outward FDI flows from select countries, 2005-2017<http://www.cepal.org/sites/default/files/pr/files/cuadro_ied_ingles.pdf>.