Setbacks in labor rights won't be allowed, unions warn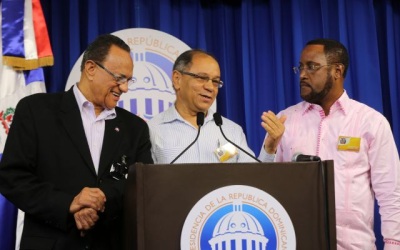 Union leaders. G. Del Rio S., Pepe Abreu, Jacobo Ramos
Santo Domingo.- Representatives of several labor unions called on the Government, the business community and Dominican society to avoid setbacks in a pending reform of the Labor Code.
"The achievements we have made with workers' maternity they aim to reduce them, and also want to reduce aspects of work to young people who get their first job and this type of setback we will not allow," said the general secretary of the CASC union, Gabriel del Río Doñé, during the press conference.
He said the unions cannot turn its back on the important achievements that have been made and affirmed that there's no right to work in the Dominican Republic.
"The employer sector has the ability to dismiss any worker be giving them the (severance) benefits, which means that their right does not exist," he said.
The various unions hosted the Trade Union Positioning Forum on Challenges as part of the proposal to reform the Labor Code, which "seeks to strengthen the position of the trade union movement in order to prevent a labor reform that reduces the labor rights recognized to workers."
Since 2010 the unions have opposed the business sector's proposal to reform the law, for which on Dec. 2, 2013, an executive order created the Labor Code Special Revision and Update Commission.
The trade unions reiterate that they will not allow a "regressive labor reform," since reducing workers' rights "contributes to the increase of poverty."