Dominican Republic's 5.4% growth to lead LatAm region: ECLAC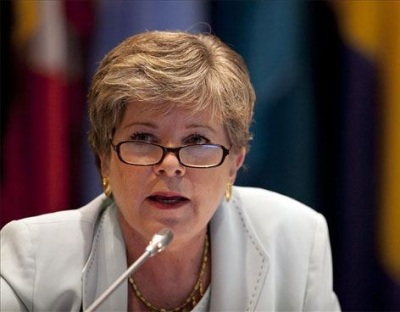 A. Barcena. File
Mexico.-  The Economic Commission for Latin America and the Caribbean (ECLAC), on Thurs. scaled back this year's growth forecast for Latin America and the Caribbean, from 2.2% to 1.5%, a slight jump compared to 1.2% in 2017 thanks to domestic demand and investment , despite the persistence of "external uncertainties."
"After two consecutive years with negative growth, in 2017 we had a growth of 1.2% and this year we expect growth of 1.5%, but there are important divergences between the subregions," said ECLAC Executive Secretary Alicia Bárcena, from Mexico City.
In the Economic Survey for Latin America and the Caribbean 2018, the agency notes that the growth forecast for the region fell by 0.7 percentage points compared to last April's estimate.
Nonetheless "a positive trend is maintained, although it shows signs of slowing" and there is a lot of heterogeneity between countries and regions, she said.
South America is expected to grow 1.2% in 2018, while Central America would grow by 3.4% and the Caribbean 1.7%.
By countries, the Dominican Republic and Panama will lead the growth of the region with increases in its GDP of 5.4% and 5.2%, followed by Paraguay (4.4%), Bolivia (4.3%) ), Antigua and Barbuda (4.2%) and Chile and Honduras, which will boost their economy by 3.9%.
Brazil and Mexico, the subcontinent's two main economic powers, will grow 1.6% and 2.2%, respectively.