Dominican Republic Gov. fails to protect National Park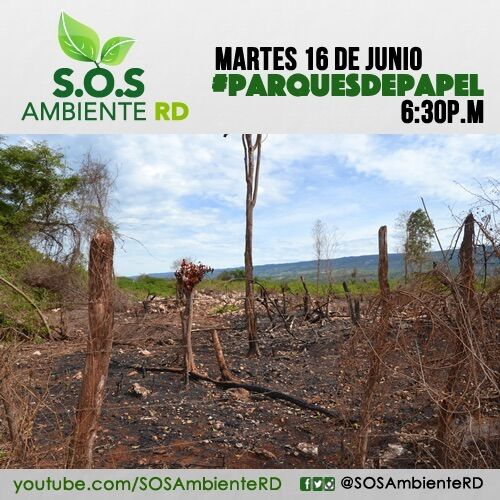 A desperate call for help.
Santo Domingo.- The DR-CAFTA free trade pact's Environmental Affairs Secretariat on Tues. validated for the second time the environmentalists SOS Ambiente denounced deforestation on the south slope of the Sierra de Bahoruco National Park (southwest) and the government's failure to comply with environmental legislation.
In a statement, Secretariat coordinator Jorge Guzmán Valdéz said the entity analyzed the complaint and determined that it complies with DR-CAFTA provisions on the Working Procedures for Communications Relating to the Enforcement of Environmental Legislation.
In November 2015, environmentalists Ariel Sing Gómez and Carlina Durán Baldera filed a complaint with the SAA on the situation of the protected area so it could meet and open a dialogue with authorities to discuss the solutions for the Park, declared an Important Area for the Conservation of Birds (IBA's4), Key Area for Biodiversity and one of the destinations of the Zero Extinction Alliance.
However, on March 9, 2017 SOS requested a temporary suspension of the review of the communication (CAALA / 15/003) in response to the openness and willingness stated then by the Environment Ministry, which acknowledged the status of issues expressed in the letter, among them the deforestation and the use of Park land for agriculture.
The SAA must decide on the denouncement within 45 days in accordance with the protocol that regulates its operation.
Minister now wants a dialogue
After weeks of foot-dragging, the environment minister, Ángel Estévez, interviewed on Zol-101FM, said he's willing to meet with environmentalists to discuss the Park's "historical problems" and denied the devastation of the area, as has been reported.
However, he didn't deny the denounced participation of a brother of president Danilo Medina and neither of ruling party (PLD) leader Saturnino Espinal in the illegal farming.