Sector continues to downplay electricity crunch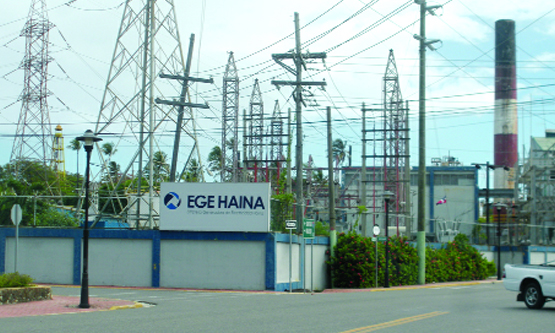 EGE Haina
Santo Domingo.- Ten of the country's 20 major power plants are generating less energy than programmed by the sector, but officials and executives of the sector affirm that it has been compensated by excess output from seven plants.
The National Electric Grid Coordinator (SENI) said the electricity supply has been stable in the last four days, after the crisis from the unscheduled outage of Los Minas CC Total last week, which was added to the failure of AES Andrés (300 MW).
Four plants have been unavailable for a few hours a day this week because they ration their fuel: Sultana del Este, Palenque EGE Haina, and   Pimentel 1 and 2, of Laesa.
EGE Haina said the management of the fuel for the generation is "linked to an increase in the dispatch of these units and the import permits of fuels exempt from taxes for electric generation."
Meanwhile the plants AES Andrés and Barahona Coal are undergoing maintenance.
Local media report that the natural gas-fueled AES Andrés will be back on line as early as Monday and, according to the Electricity Superintendence (SIE), Barahona Coal would reenter on Sept. 30, sooner than planned.
"While AES Andrés was in a process of corrective maintenance, Barahona Coal went through a scheduled major maintenance that pulled that energy from the electrical system. Between both they contribute over 350 megawatts," the SIE said.
Dominican Power Companies Association (Adie) vice president Manuel Cabral said he's surprised by the effect the AES Andrés' shutdown.
"AES Andrés goes out every year for a month for maintenance, and nothing happens," Cabral said, interviewed by Telesistema.