Dominican Govt. wants a 2019 Budget of US$18.4B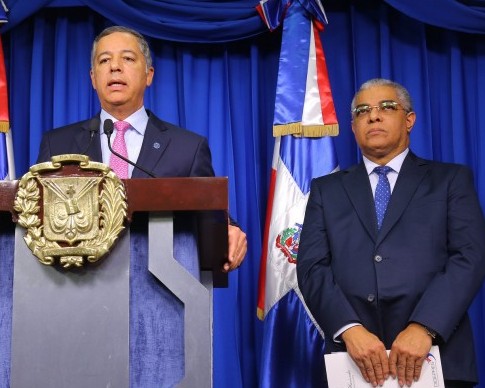 Donald Guerrero, Luis Reyes.
Santo Domingo.- The Council of Ministers on Fri. approved a Budget of RD$921.8 billion (US$18.4 billion), for 201, or RD$91.1 billion more than what Congress approved for this year.
Finance Minister, Donald Guerrero, and Budget Director, Luis Reyes, said estimated collections are RD$689.9 billion; estimated total expense are RD$765.5 billion, and RD$156.3 billion is for debt amortization.
"The Budget contemplates maintaining the reduction in the fiscal deficit for 2019 with a projected deficit of 1.9 for the non-financial public sector and 1.7 for the central government," said Guerrero.
Reyes said the Budget bill proposes a decrease in the Central Government deficit of 2.2 percent of GDP to 1.7 percent. "This is 0.5 percent, the most important decrease, the largest that has taken place since 2013 and is the effort made by the Government to adapt to the international environment."
They added that best practices, Internal Taxes (DGII) and Customs (DGA) expect increased revenues next year through at .4% of GDP, or RD$16.0 billion.