América Móvil to invest US$1.0B on Dominican Republic's strong growth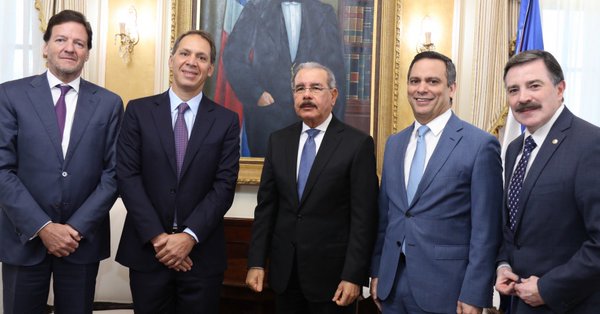 President Medina (c.), with America Movil executives.jpg
Santo Domingo.- Mexican company América Móvil will invest US$1.0 billion in the Dominican Republic over the next three years, company CEO Daniel Hajj Aboumrad announced Tues. after meeting with president Danilo Medina.
The Dominican Gov. provided the information in a statement after the meeting, which also included company CFO Carlos García Moreno and Rogelio Viesca, president of Claro Dominicana, América Móvil's operator in the Dominican Republic.
Hajj Aboumrad stressed that the Dominican Republic "is one of the countries where América Móvil is experiencing a stronger growth in data consumption per user."
He said the growth has been driven by data plans and equipment offers launched by Claro Dominicana, which have led to a high penetration of smart devices (smartphones), which exceeds 70% of its portfolio total of mobile clients.
"To sustain this growth and prepare ourselves for the challenges of technological evolution towards 5G, as well as the development of new applications in the era of hyper-connectivity and the internet of things, we will invest more than one billion dollars in the next three years," he said.
The executive also noted that to continue the market's development  is necessary to guarantee respect for the established legal and institutional framework, to ensure a climate that allows intensive investment in state-of-the-art technologies and the strengthening of communication networks.
"As a leader in technology and innovation, Claro Dominicana will continue to focus on driving the solutions required by the productive sectors for their transformation."