Is it a dud or big dough? Only testing will tell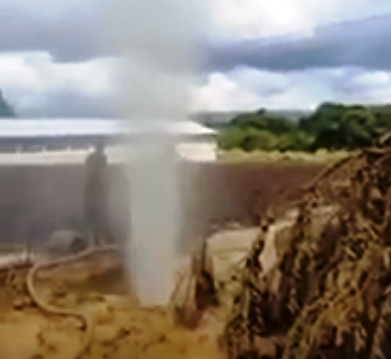 Santo Domingo.- The Energy and Mines Ministry (MEM) on Wed. said it has decided to allow the gaseous mist at Villa Tapia to remain open for a determined period of time, because if the pressure continues, it would rule out a biogenic origin.
"If the gas is biogenic, the pressure would drop naturally and the commercial potential of the emanation would be ruled out. However, if it is maintained for more days it would be confirmed that it is a thermogenic gas and a pocket with oil and gas interest," the agency said.
Given that scenario, the MEM will conduct additional studies to determine the quality of the generating rock, as well as the carbon isotopes and biomarkers, which are studies to better understand the thermogenic origin of the gas. "That is, to better understand the oil formation that is producing that gas, in terms of quality, age and potential."
On Wednesday Emergency Operations Center (COE) director Juan Manuel Méndez visited the site with several technicians together with Environment Ministry officials, to monitor the air quality in the area and establish security measures.
Environment banned any activity that generates heat or sparks in a radius of one kilometer; industrial drilling within a radius of three kilometers and from there up to 10 kilometers any activity that involves drilling the subsoil.