Hollywood's presence boosts Dominican film industry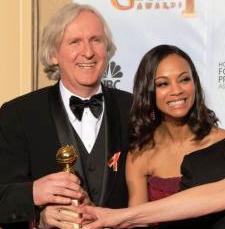 Zoe Saldaña at Golden Globes
Santo Domingo.- Hollywood has its sights set on the local film industry led by the Nyla Media Group, established in Los Angeles, which makes important investments of around US$50.0 million in 2019and productions in the Dominican Republic, said Attilio Perna, international advisor consultant and executive producer of films.
"Nyla Media Group of Hollywood and its president Louis Arriola, a major American producer, has decided to make its investments in the Dominican Republic making a strong synergy and alliance with La ProCapital Film Studio, which participates with two local partners: Ramón Rodríguez, Dominican, and Tristan Desechenes, Dominican-Canadian," Perna told Listin Diario.
The first film that currently shoots scenes in Santo Domingo is titled "The Havisham Effect" with performances by the famous Rochelle Aytes, Bryan White, Obba Babatundé and Wesley Jonathan, directed by the renowned Ghanaian Leila Djansi.
"The production has decided to also recruit local actors as a complement to the cast," said Perna.
The Hollywood project is attracted by the Foreign Investments and Productions Law 108-10.