Dominican Republic port projects full steam ahead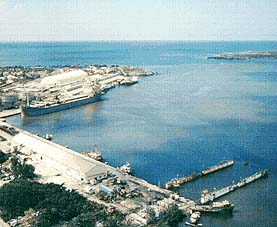 San Pedro
Santo Domingo.-  For the third time in as many days president Danilo Medina's  agenda was headed by ports, when on Wednesday called on various senior officials and international experts to discuss the rehabilitation of the current breakwater and a new port in Manzanillo, northwestern Montecristi province.
Presidency chief of staff, Gustavo Montalvo said the Public Works Ministry and the State Works Supervisory Engineers Office (Oisoe) submitted the rehabilitation alternatives to increase the safety and lifespan of the current jetty.
He said the project aims to guarantee total confidence for the companies that currently operate at the port and which is resistant to earthquakes. "We are looking for an alternative that generates structural sustainability to the current breakwater, because we know that it is highly necessary to maintain current operations for the productive sectors that use it, both for exports and imports."
Puerto Plata, San Pedro
On Wed. Medina broke ground for the Puerto Plata Port, to be built at a cost of US$125 .million, whereas on Monday heard suggestions to rebuild the port at San Pedro (east).