Utility owes power companies US$600M; Punta Catalina tests start in Feb.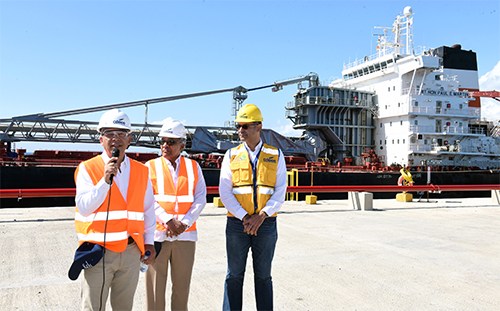 R. Jimenez B. at Punta Catalna
Santo Domingo.- State Electric Utility (CDEEE) CEO Rubén Jiménez Bichara, revealed Thurs. that suppliers are owed around US$600 million and that they expect to reach a payment agreement next week.
"Some installments to the debt with suppliers have been made, we hope that next week we will reach an agreement to update the outstanding commitments," he said.
The official spoke after his presentation at the 19th annual Caribbean Energy Conference, which brings together electricity sector experts and investors of the region, taking place at Hotel Jaragua.
Jiménez listed the major energy projects being carried out in the Dominican Republic and noted that construction on the Punta Catalina power plant, built at a cost of nearly US$2.2 billion, is over 97% completed.
He added that the start-up tests will start mid-February when it's expected to inject up to 224 megawatts to the national grid.