Hapless Environment chief calls scientists 'lazy bums'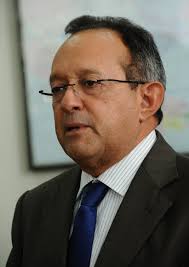 E. Estevez.
Santo Domingo.- The Academy of Sciences of the Dominican Republic (ACRD) on Wed. said its members deserve respect, in response to Environment Minister, Ángel Estévez's assertion that environmentalists are "lazy bums."
"Our members and the environmentalists who accompany us in this noble mission, do not receive money or provide gifts or favors, or have complicities or favoritism, are men and women aware of their civic duties and citizens who deserve greater respect," said the ACRD.
It repudiates Estévez's "offensive and demeaning expression" against the environmentalists, who've expressed alarm for at the mismanagement during his tenure.
In a statement, the ACRD added that since Estévez's arrival at Environment, the Academy expressed its willingness to collaborate.