Artificial intelligence, robotics and women: a new revolution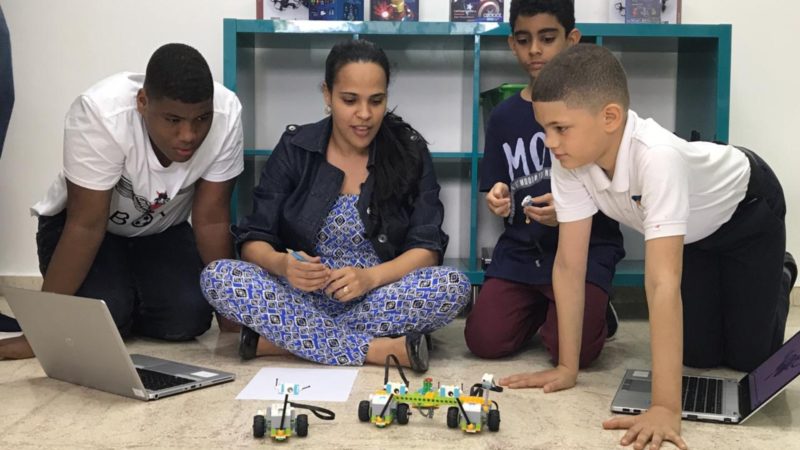 There's a future for girls in robotics and technology in the DR
Wouldn't it be wonderful if we could empower the women's revolution with the technological revolution and begin writing a new work reality for women? Maybe today the girls do not dominate the technological market, but they have a great experience in fighting to win spaces.
Luz Yajaira Rosario, an engineer in electronics and communication graduated from the Technological Institute of Santo Domingo (Intec), with several specialties including one in pedagogy, embodies one of those women who puts a female face on artificial intelligence and robotics in the Dominican Republic.
Recently she opened the first private center specialized in the teaching of new technology focused on robotics for children and adolescents, located in Santo Domingo East. This is "Nova Mentis", a school that since the beginning of its operations just two months ago has an enrollment of 25 students and has created seven direct jobs.
Luz Yajaira says that she came to the world of teaching in a causal way, this is because her professional degree is not in pedagogy, but computer science, "working as a teacher in some schools was where I discovered the passion for teaching," she explains.
And it is also driven by a desire to start your own business, shape it "Nova Mentis," where students can be trained in areas such as robotics, coding (an educational trend that is taught programming languages from an early age) and digital art.
Equally the young engineer explains that the center offers academic reinforcement in English and Spanish, in what they have called Task Room 2.0, "it is an open space that motivates concentration and is given a personalized follow-up and we approach the school to follow-up on the tasks."
Children enrolled in the homework room receive two hours per week from a workshop of their choice coding, robotics or arts.
What is the children's educational experience? The first, according to the specialist in new technologies, is to induce curiosity in the students for the subject, looking for information on the internet about the project to be developed, then they can materialize it using a toolbox that includes Legos.
All this experience can be turned into moving pieces like a remote controlled car or some animal species, which in addition to being educational turns the class into a fun experience. "Many children only know how to use video games on the computer. All energy can be used in a more useful teaching method that can also be fun," she explains.
Let's talk about the feminine revolution. Female empowerment is becoming increasingly noticeable in the areas of science, technology, engineering and mathematics in the DR. Historically, in these branches of universal knowledge, there has been a huge gender gap, however, today women are those who are strengthening and promoting the development of new technologies in the country.
Yajaira is an example that the female brain can develop in areas that are considered complex and in fact, her school has been created to train other girls in this field. "Both men and women can learn about robotics. There are no limits to this knowledge," she explains.
A Millenial all-terrain.
The main problems of modern women are the conflicts and tensions generated by the relationship between the domestic and the working world, without forgetting that they are subjects of rights.
Luz Yajaira Rosario, who makes her way in a world dominated by men, is a millennial whose goals, priorities and work competencies are very well balanced: she is the mother of 4 children between the ages of six and one, and who together with her husband Marcos Peña Ogando, has excelled in the technological world and in each role must give everything.
"I work and I work until 6:00 in the afternoon in this center, then it's home to be a full-time mother," she concludes.