Huawei develops plans to support young Dominicans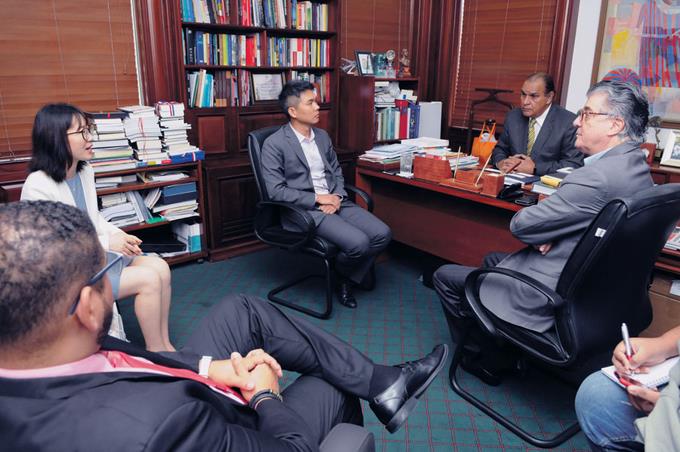 Representatives of Huawei in the Dominican Republic and the president of the Dominican-Chinese Chamber while visiting the director of the Daily Listín. JORGE CRUZ / DAILY LISTIN
On a courtesy visit to the director of the Daily Listín, Miguel Franjul, the vice president of Huawei, Aaron Liu (Chaoqun), the communications manager Angela Bao, the solutions manager, Leo Mercedes and the president of the Dominican-China Chamber of Commerce Roberto Santana explained the main contributions that this company has made.
In order to support young universities that are training in technology and telecommunications careers, Huawei has developed its global flagship CSR program, "Seeds for the Future." According to Liu's statements, this is their CSR activity in which they make their biggest investment, so they will continue to support it in the long term.
"Launched by Huawei in 2008, the program seeks to develop local ICT talent, improve knowledge transfer, promote greater understanding and interest in the telecommunications sector, and improve and encourage regional construction and community digital participation," Bao explained.
The company representatives stressed that at the end of 2017, the "Seeds for the Future" program had participants from 108 countries from different regions.
To date, the program has benefited more than 30,000 students from more than 350 universities worldwide. Through this program, a total of 3,600 university students have been able to visit and study at the Huawei headquarters in China.
In 2018 they began applying for the first time in the Dominican Republic and this year they have selected ten students from different universities who will travel to China in September.
Other contributions
This company is not only present in the education sector, but through the development of technological infrastructures has impacted the health, safety, and other sectors.
LEARN MORE 
Technology                                 
With the development of high-end and mid-range mobile devices, Huawei has been able to stand out among cell phones with better cameras and better designs.
Attractions
To face a competition that is becoming stronger, the company has managed to create a synergy between price-quality that has positively entered into the taste of consumers.
Availability
Throughout the DR the main devices of this brand are distributed nationwide by several telecommunications companies.