Dominican products show at international fair in California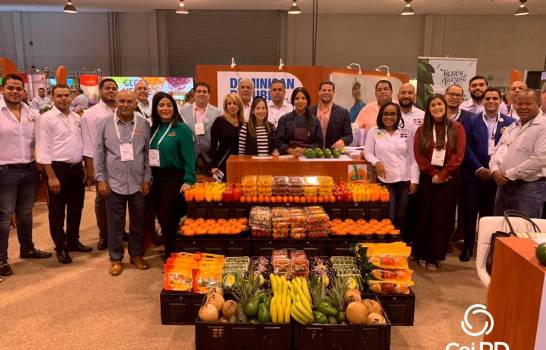 Part of the Dominican products exhibited at the international fair PMA Fresh Summit 2019. (PHOTO CEIRD)
Fruit and vegetable export companies showed their products at the "PMA Fresh Summit 2019" fair
More than ten fruit and vegetable export companies exhibited their products at PMA Fresh Summit 2019, held in Anaheim, California, from October 17 to 19, according to the director of the Center for Export and Investment of the Dominican Republic (CEIRD), Marius Of Lion.
Among the products that were on the stand of the Dominican Republic were avocado, coconut, bell peppers, habanero peppers, tomatoes, oriental vegetables, pineapple, cucumbers, organic mangoes, and eggplants.
Of the companies that exhibited their products at the PMA Fresh Summit 2019, four of them are SMEs, two are benefited by the surprise visit program and the others have experience in the export of fruits and vegetables.
"57.1% of Dominican avocado exports, to name an example, are directed to the US. So participating in an international fair like WFP represents an opportunity that benefits fruit and vegetable producers, expanding their business opportunities and allowing them to find the best partners to increase their sales and increase exports in the fruit and vegetable sector," de León pointed out.
He also recalled that the purpose of CEIRD is to connect, inform, provide solutions and accompany Dominican export companies to increase their export level, in the same way, achieve the internationalization of MSMEs.