Guanábana the fruit tree much sought after for its fruits, its leaves and roots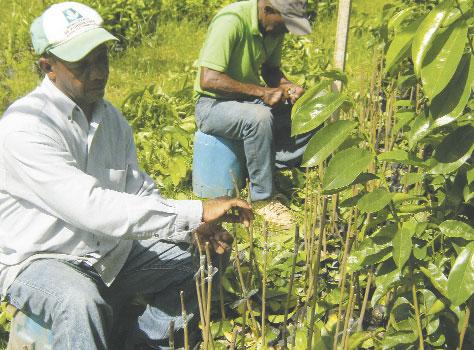 The guanábana has ceased to be the lonely tree, which was minimally developed in some properties, to become a plantation planting in small, medium, and large, for production purposes for the national market and basically for export.
Like all fruits, guanábana is rich in vitamins of all types, minerals, antioxidants and deficient in protein. It has medicinal qualities for different ailments, and according to scientific research, it has potent anti-cancer properties in its leaves, roots, and fruit. For planting in commercial plantations, plants propagated by grafting, and at the same time of improved varieties, high production and sound quality should be used.
The North Regional of Agriculture at the moment is propagating, through grafting, varieties of excellent quality and productivity from Colombia. In a few months, they will be able to offer them to interested agricultural producers, at cost. The condition demanded from producers is that the minimum quantity to be sold is 120 plants. That amount is enough to sow ten tasks, to a sowing frame of 7 meters between rows by 7 meters between plants. At the same time that the plants are delivered, the producers must register in the cluster information, so that once the adequate volume of production is available and all export requirements have been addressed, start this one for better marketing and Obtaining foreign exchange for the country.
Guanábana, like all fruit trees promoted abroad, must come from grafted plants because of the following With the graft, it is possible to produce, from two years of planting onwards. Grafting assures abundant production since they are clones, which come from high productivity plants. There is homogeneity in all fruits produced. The taste and quality are the same in all fruits. Finally and of great importance, to graft these plants, patterns that have resistance to inappropriate soils, pests, and diseases, and resistance to the environment, in general, are selected.
Like any fruit tree that has reasonably high development, it should be pruned when it is 1 meter to 1.5 meters high. This is done to stimulate horizontal growth and limit and avoid vertical development. This will facilitate in the future the realization of cultural care such as pruning, artificial pollination, sheathing of fruits, control of pests and diseases, and harvest. Artificial pollination is a very beneficial practice for guanábana and most fruit crops. Pollen is extracted from a flower, and with that pollen, many flowers can be pollinated. Which will produce good-sized, uniform, and good quality fruits. When this technique is not applied, the plant produces, but the fruits are small, irregularly shaped and many flowers because they are not pollinated,
Agricultural producers interested in this crop, from the provinces of Espaillat, Puerto Plata and Santiago, that is, the Northern Regional of Agriculture, must go through the nearest office of the Ministry of Agriculture and make their request to purchase guanábana plants. For the rest of the country, they must request information from the technicians of the Ministry of Agriculture to obtain guanábana grafting plants.        
As graft guanábana plantations are planted, grafting technicians Pedro Familia and Juan Reynoso continue to graft the patterns they prepare continuously, technicians at the Tropical Fruit Station of the Ministry of Agriculture in Villa González, Santiago.