Dominican Republic exports boost Canada investments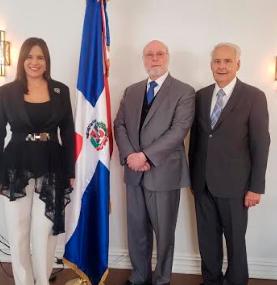 Tamara Vásquez, Pedro Vergés, Gérard Trudeau.
Ottawa.- The Dominican embassy in Canada and the Dominican Republic Export and Investment Center (CEI-RD) held a meeting on trade with Quebec province business leaders to spur foreign investment to the country and promote Dominican products among Canadian importers
Dominican ambassador to Canada, Pedro Vergés, CEI-RD deputy director, Tamara Vásquez and Canadian businessman Gérard Trudeau hosted the meeting and spoke to the press.
Vergés labeled the country's economic, political and cultural ties with Canada as "excellent." He emphasized the Dominican economy's" remarkable" growth, which has made the country "a true regional leader."
Vásquez listed business opportunities in the Dominican Republic and how to materialize their ideas and projects through the CEI-RD, "an entity that has the role of promoting the attraction of foreign investment to the country.
She also stressed the government policies to promote Dominican exports.
Positive experience
Trudeau recalled his positive experience with the country by Canadian investments.