Central Bank says Dominican Republic is one of the Latin American countries with the lowest inflation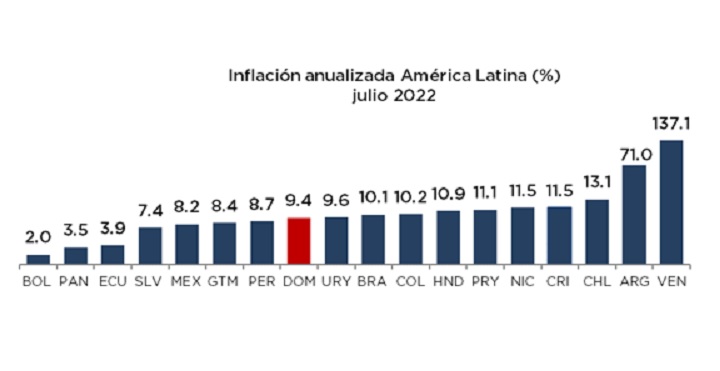 Source: Instituto de Estadísticas y Bancos Centrales
SANTO DOMINGO – More than half of the countries of Latin America register an annualized inflation higher than that of the Dominican Republic, informed the Central Bank (BCRD) on Wednesday.
The institution rejected the analysis of economists and political leaders who point to the Dominican Republic as one of the countries with the highest level of price increases in the region.
It also pointed out that the Dominican Republic is among the three countries in the region with the lowest deviation with respect to the target range of this indicator.
BCRD indicated that there are ten countries that, from July 2021 to July 2022, have registered higher inflation rates than the Dominican Republic: Venezuela (137.1%), Argentina (71.0%), Chile (13.1%), Costa Rica (11.5%), Nicaragua (11.5%), Paraguay (11.1%), Honduras (10.9%), Colombia (10.2%), Brazil (10.1%) and Uruguay (9.6%).
The BCRD further said that this twelve-month period is the right one to monitor inflation in nations.
"To analyze the behavior of inflation using periods longer than twelve months, in order to deliberately, for particular reasons and interests, present the country at this juncture as one of those with the highest inflation in the region, as recently done by some economist colleagues and political leaders, is unfortunate and could contribute to alter the expectations of economic agents on the future evolution of prices and affect their spending and investment decisions," the bank explained.
BCRD added that of the seven countries with lower inflation than the Dominican Republic, three are dollarized (Panama, Ecuador, and El Salvador), so they would not be comparable since they do not follow an independent monetary policy scheme.
"In terms of cumulative inflation in January-July 2022, the Dominican Republic is placed in the same position with respect to Latin American peers," the entity explained and then added that "an objective evaluation" allows us to appreciate that the global inflationary conjuncture of the last two years is a direct sequel to the impact of the COVID-19 pandemic.
"It brought with it disruptions in production and supply chains, increases in the prices of raw materials or commodities, including oil, as well as increases in the cost of ocean freight and containers, which have been more persistent due to the Russia-Ukraine military conflict."