Dominican Republic and El Salvador continue to have the cheapest basic staples food basket in the region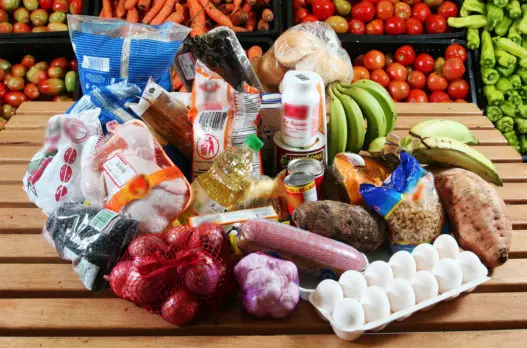 Basic food basket products.
The Dominican Republic and El Salvador lead the countries in the region with the cheapest Basic Food Basket (CBA), according to a recent price comparison research study by the Central American Consumer Protection Council (CONCADECO).
This was announced by the executive director of the National Institute for the Protection of Consumer Rights (Pro Consumidor), Eddy Alcántara, who explained that the report places the Central American country with the cheapest CBA, with a value of 237 dollars and 89 cents.
Meanwhile, he pointed out that the Dominican Republic is in second place, with the cost of the basic basket valued at 290 dollars and 5 cents.
He said that the price comparison report carried out this month details that the cost of the products of the basic basket in Panama is US$306.64; Honduras US$ 324.65; Nicaragua US$349.40; Guatemala US$448.89; and Costa Rica has the highest inflationary index with US$ 505.35.
The executive director of Pro Consumidor, Dr. Eddy Alcántara, has the highest inflation rate at US$505.35.
The executive director of Pro Consumidor, Dr. Eddy Alcántara, spoke about studying the basic food basket.
He said that, according to the research, the cost of the basic food basket showed a decrease in its value from 0.44% in El Salvador and a maximum of 1.25% in Honduras, except for Guatemala and Costa Rica, which showed price increases of 0.54% and 2.90% respectively, due to the fluctuation in the cost of the different food products.
Alcántara assured that the low prices of staple products, which have been registered for months in the country, "guarantee an economic stability in favor of the pockets of Dominican consumers."
Basic Food Basket (External source)
The study on the comparison of food prices in the region, in which the Dominican Republic appears in second place with the cheapest basic food basket, was carried out by the Secretariat of Economic Development of Honduras through the General Directorate of Consumer Protection of that nation, presided by Mario Castejón.
It was explained that these Central American countries are part of CONCADECO, whose presidency is currently held by the Dominican Republic.
Alcántara highlights effective measures of the Government
Luis Abinader
The executive director of Pro Consumidor, Eddy Alcántara, took the opportunity to explain that the stability of the prices of most of the products of the basic basket and the assured supply in the Dominican Republic "is due to the effective economic policy outlined and implemented by President Luis Abinader."
He also stated that of the Central American nations and the Dominican Republic, members of CONCADECO, "the country is the only one that does not have a problem of shortage at present and the products are guaranteed for the next twelve months."