In January Dominican Republic expects to sign Open Skies Treaty with the US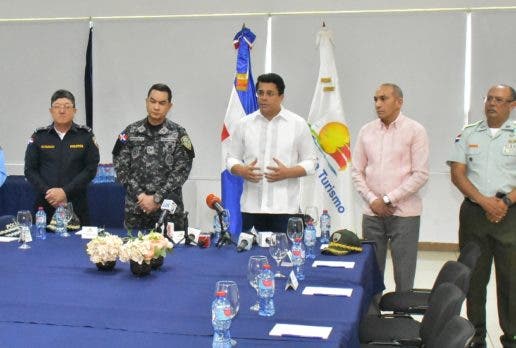 David Collado with national security directors.
Security in tourist areas and highway traffic will be strengthened for the end-of-year festivities.
The Dominican Republic intends to sign the Open Skies Treaty with the United States at the beginning of 2023, affirmed the Minister of Tourism, David Collado.
He said they recently had a meeting with the State Department of that country in which these issues were discussed.
According to the U.S. Embassy, with an aviation agreement under the Open Skies policy, the Dominican Republic can reach more destinations without a stopover in the U.S., and Dominican airlines can provide more affordable, convenient, and efficient services to consumers by minimizing limitations on airline decisions on routes, the number of flights and airline partnerships.
Collado offered these details in a press conference to announce that they will strengthen security in tourist areas and highway traffic for the end-of-year festivities.
Collado said there had been no reported crime incidents in airports or tourist areas this month.
He highlighted as historic that there is a working table together with the directors of the National Police, Major General Eduardo Alberto Then; of the Tourism Police (Politur), General Minoru Matsunaga; of Transit and Land Transportation Security (Digesett), Brigadier General Ramón Guzmán Peralta; of the Specialized Corps for Airport and Civil Aviation Security (CESAC), Floreal Suárez and the president of the National Drug Control Directorate (DNCD) José Cabrera Ulloa.
He said that these institutions are working together to act better and increase security in the country.
He added that record numbers are expected at the end of December and more than seven million tourists, as all airports, operate at maximum capacity, despite the winter storm situations in the United States and Canada, the main origin nations of tourists.