Prices remain high ahead of New Year's Eve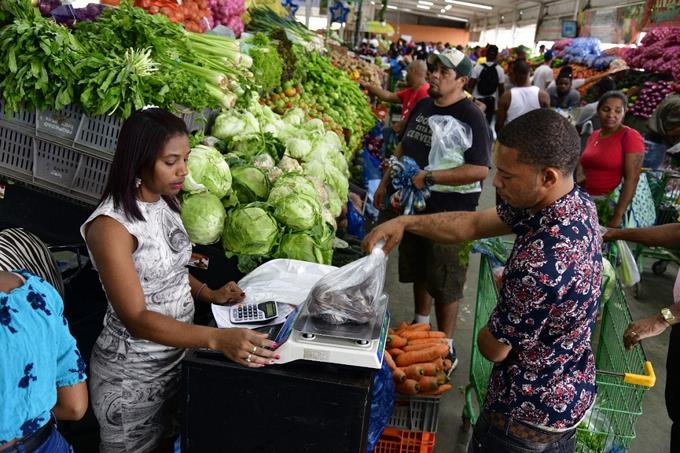 Santo Domingo, DR.
Yesterday the popular markets' vendors affirmed that the traditionally used products to make the New Year's dinner have gone up in price in the last weeks.
In a tour of different establishments of sale of the articles which make up the package for the New Year's dinner, journalists of the Listín Diario interviewed multiple people who were walking among the markets of the National District and received as answer a generalized displeasure for the high costs which maintain these products, but they assure that in the same way, they have to acquire it.
"The thing is horrible, but we have to look for where there is nothing because imagine my family is big, and we have to feed them all," said Jorge García, who lives with his four children and his wife in Santo Domingo East, but he goes to the Villa Consuelo market, based on the premise that "it is cheaper than others."
Usually, the basket for these holidays comprises rice, sugar, oil, pasta, seasoning, oregano, green pigeon peas, Christmas sweets, cassava, punch, wine, and chicken.
As well as pork leg, potatoes, lettuce, tomatoes, grapes, apples, raisins and many other items that are essential and different in every Dominican home.
Among the markets, a pound of pigeon peas starts at 75 and even 90 pesos, and 10 pounds of rice, depending on the brand, up to 250 pesos; each of these prices could vary depending on the market.
Meanwhile, the pound of chicken continues above 80 pesos and pork between 140 and 200 pesos.
Other complements, such as coquitos, grapes, and apples, vary in price depending on quantity and size, ranging from a pound of apples at 70 pesos, grapes at 159 pesos, and a bag of coquitos and Christmas nuts between 119 and 220 pesos.
Meanwhile, a pound of chicken continues at over 80 pesos, and pork between 140 and 200 pesos.
The beverage trade is more active.
After journalists of this newspaper talked to citizens who were shopping for their New Year's dinner, it became evident that on December 31, the balance leaned more heavily toward selling alcoholic beverages.
"I came to the market to buy basic things, but in reality, on the 31st, in my house, they only make a sancocho, and we start drinking, from here I go to the drink," explained Mauricio while buying potatoes at the Feria Ganadera market.
In the Dominican Republic, most people celebrate Christmas Eve more than New Year's Eve. It is estimated that 41% of the population celebrates on December 24 and 18% on December 31, according to studies by the National Institute for the Protection of Consumer Rights (ProConsumidor).