Tourism agrees with major airlines on greater connectivity for the Dominican Republic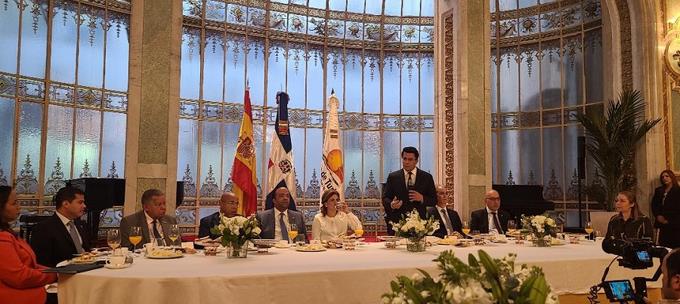 Madrid, Spain
The high price of fuels in the international market has generated concern in commercial aviation and long-distance tourist destinations, so a commission has been created to seek a solution to this issue. According to Tourism Minister David Collado, the commission comprises the Ministry of Tourism (Mitur) and the three main airlines, Air France, Iberia, and Caribair.
Collado said that air connectivity is a primary objective at this Fitur 2023 fair, along with attracting foreign investment.
He indicated that fuel costs for long-haul flights had become a concern for Caribbean countries.
In this context, he revealed that he has met with these airlines because it is an issue that needs to be addressed for the summer, not now. After all, the winter is overbooked and unprecedented figures are being projected.
He said that January alone could be the best January in tourism history.
He reiterated that the agreements with the airlines, in a usual way, have registered the arrival of 709,000 passengers per year and that now the objective is that 850,000 arrive only from the European market, which is a significant market.
The minister explained that within the meetings, the issue of taxes, airports, and others will be discussed for competitiveness and to work more efficiently.
The minister spoke of the great success achieved by the country at the International Tourism Fair (Fitur 2023) at breakfast in the Casino of Madrid, with the presence of the vice-president of the Republic Raquel Peña, banking executives, businessmen, diplomats, directors of the Dominican Association of Hotels and Tourism (Asonahores); of the Tourism press (ADOMPRETUR) and representatives of various media.
He emphasized that Fitur closed with investment projections for US$3.6 billion, of which only this year, US$1.6 billion will be invested in projects starting in 2023.
Savings of RD$8.8 billion
Mitur's savings go for RD$8,000 million from international promotion in two years. "We take the administration of public goods very seriously, but we also take very seriously the responsibility of running the industry that represents 15% of the country's gross domestic product," said the Minister of Tourism.