Planet Hollywood will land in the Dominican Republic with a hotel in Punta Bergantín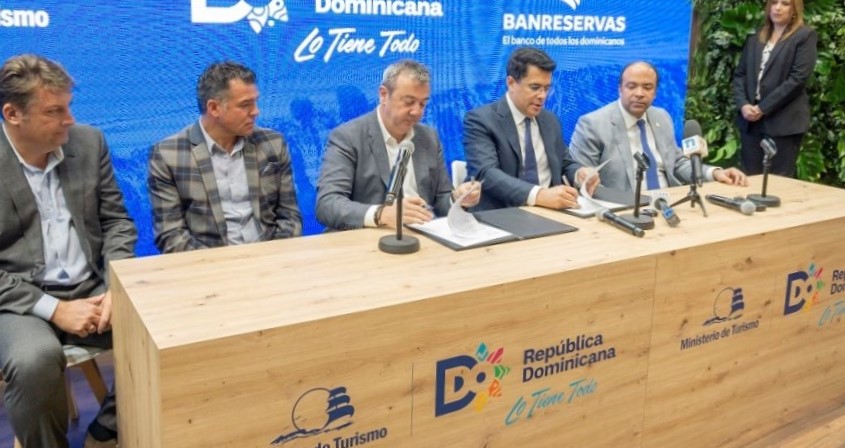 Source: External
The first Planet Hollywood hotel to open in the Dominican Republic will be located in Punta Bergantin, Puerto Plata, and will be financed by the Banco de Reservas, as announced by the Minister of Tourism, David Collado, during a Fitur 2023 event alongside the Banreservas administrator, Samuel Pereyra, and the president of Blue Diamond Hotels & Resorts, Jordi Pelfort Marques. "This is a stellar moment for the Dominican Republic, a great moment for our tourism, for the vision that we have been developing in the Tourism Cabinet, and for the relaunch of Puerto Plata," Collado said, referring to the signing of the letter of intent that will allow the American firm to set up shop in Punta Bergantin.
Pereyra emphasized that "the relaunch of Puerto Plata as a hotel tourism destination is becoming a reality" with the Punta Bergantin project, in which Banreservas purchased more than 9,000 square meters. He emphasized that President Luis Abinader and the Tourism Cabinet have been heavily involved in developing ambitious tourism, real estate, and commercial projects. He stated that Banreservas will participate as a financial entity in numerous investments that will be made there, including the Planet Hollywood hotel, the first of several hotels in Puerto Plata's tourist hub.
The Sunwing Group manages the Planet Hollywood franchise hotels in North America. Pereyra went on to say that Playa Bergantin will have 6,760 hotel rooms, 13,705 residential rooms, and an academic campus to promote education and innovation in the country.