Prices of some basic commodities continue to climb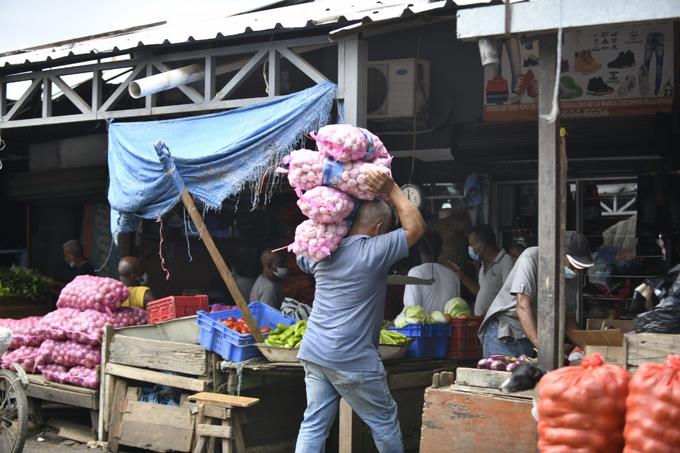 Santo Domingo, DR.
Some heads of low-income families who go to the markets to buy the foods that make up the "basic food basket" because they believe that they will find them cheaper there affirm that food prices continue to be very high.
However, the Government's attempts to maintain and lower the cost of food do not seem to be reflected "completely" on the tables of poor households.
Plantains, oil, rice, chicken, and eggs are foods on the "daily plate" of Dominican families, yet they are the protagonists in the collective complaints of mothers of families.
During a tour of the markets of the Feria Ganadera and the Merca Santo Domingo, reporters of Listín Diario observed in the stalls selling Creole food in the Feria Ganadera that the price of a carton of eggs was at RD$190.
According to Juan Perez, a trader in the area, prices have continued to rise, "first they were at 160, now they are up 190," he added. According to Perez, the food trade is complex because they have to increase the selling price to make a profit.
"If food prices go up, I have to go up as well to make a profit," said the merchant, while explaining that the price of rice continues to increase: "Before, I used to sell it at RD$25, and now it is around RD$28, and if it is a brand name rice, you know that it is more expensive," said the merchant when referring to the price at which he sells a pound of rice.
Likewise, Pedro Espinosa, in charge of one of the banana and plantain stands, said that the prices of bananas had significantly increased, affecting his profits, since "these groceries are very expensive. There in the market, they sell us a banana for 8 and 9 pesos; here, I have to sell it for 10 pesos and more to make a profit; when I went to buy it, I wanted to return with my money."
Oils go down
A seller of edible oils, who preferred not to reveal his identity, indicated that the big companies have slightly reduced the oil price, precisely the oil produced by the Dominican company Mercasid, of the brand "Crisol." The value of half a gallon is RD$345, a gallon is RD$650, and the "jumbo" is RD$1,100, so "it is not really expensive; the price of Crisol oil has dropped a little," he said.
The price of avocado has remained stable between RD$50 and RD$40. "Here, the avocado is stable (price), and it will always depend on the amount of production and the seasons."
Merchants at a butcher shop clarified that meats "have not increased in value" "A pound of chicken has a value of RD$86, breast RD$145 and pork RD$125."
María Álvarez, a housewife, expressed her discontent with the cost of some foods, "some prices are stable, but eggs, bananas, and rice are more expensive while explaining that although she recognized that in the markets, the prices are more accessible than in the supermarkets, she does not agree with some increases.
Reasonable prices
In conversation with Eduardo Torres, the father of a family, he said that the essential foods for good nutrition to feed a family could be bought in the "Merca" at reasonable prices.
Savings
"I live in Arroyo Hondo, and I come here only to buy; what I spend on gasoline; I save on food," said Torres, explaining that he only buys at this stand. Here I buy four avocados for RD$100, beans sell for RD$75,  here at RD$50, chicken RD$72, and chicken breast at RD$92.