Solar panel installation plan announced in the country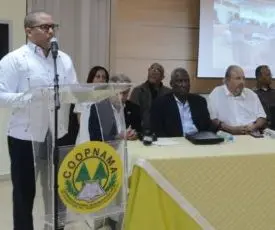 The country. Press conference headed by the President of the National Cooperative of Multiple Teacher Services (COOPNAMA), Prof. Octavio Bremón, among other leaders. Today / Pablo Matos 122-2023
The Government will contribute US$350 million, and the cooperatives US$380 million to finance the installation of 600 MW of clean energy.
The so-called RD 100% Renewable Coalition, made up of cooperatives, companies, and entities linked to the environment, announced yesterday a plan for installing solar panels in 180,000 homes and small businesses throughout the country to generate 600 megawatts of electricity in three years.
The plan, prepared in coordination with the Ministry of Energy and Mines, foresees the installation of 600 megawatts of solar energy, producing 900 million kilowatts/hour of clean electricity annually.
The plan's financing would be mixed: US$350 million would be provided by the Government from the electricity subsidy, and US$380 million would come from the cooperatives, for a total of US$730 million.
Among the cooperatives that are part of RD 100% Renovable are those of Maimón, Vega Real, and Nacional de Servicios Múltiples de los Maestros (COOPNAMA), as well as the companies Rensa, Trix Energy, and Más Consulting SRL.
The plan seeks to reduce electricity losses in both transmission and distribution.
The Instituto Nacional de Formación Técnico Profesional (Infotep) will train personnel to install solar panels.
The RD 100% Renewable coalition thanked the Ministry of Energy and Mines for having agreed to work on elaborating the plan that will contribute to the energy transition in the country.
It proposed to the Ministry of Energy and Mines the establishment of 1,100 megawatts of renewable potential in wind and solar plants.
At a press conference held at the headquarters of the Cooperativa de los Maestros, Octavio Bremón, its president, highlighted the importance of the plan for the massive installation of solar panels on roofs.