Urgent need to establish a road connecting Santiago to the Southern Region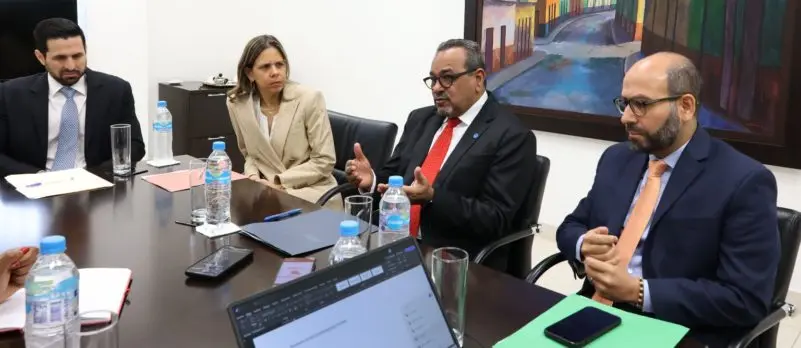 Members of Airen's Board of Directors during the interview.
The Association of Industrialists of the Northern Region (Airen) urged the establishment of a road connecting Santiago with the Southern Region and considered that connectivity between the provinces is one of the country's main challenges.
He also asked for a better connection between Santiago and Monte Cristi and a new road to communicate Santiago with Puerto Plata.
The entity's president, Juan Ventura, affirmed that connecting the Northern Region with the South should be a priority because it increases the intra-regional commercial exchange and considerably reduces costs and time.
He stated that fundamentalism should be left aside and that no construction project does not affect the environment. He urged to look for a middle ground and resume the Santiago-San Juan de la Maguana highway construction.
Christian Reynoso, vice-president of Airen, emphasized that now that the development of the Southern Region as a tourist pole is being promoted, the importance of the connectivity of these provinces should be considered because this would lead to significant development, creation of companies, an increase of employment and decrease of logistic costs.
"If there were a Santiago-South connectivity we would be closer to the border posts and our second trading partner is Haiti. And now we have to get to the Capital and then to the border. In other words, Santo Domingo, which is a headache, is also decongested", he said.
Monte Cristi – Santiago
Ventura expressed that it is a headache for this highway, which has 73-speed bumps (lomos) or "lying policemen" on the Santiago-Navarrete street to Monte Cristi.
He said that they have discussed it many times with President Luis Abinader and hopes that their claims will be heard because that is vital for the seaport of Manzanillo.
"You cannot have development with anachronisms and if you want to develop Monte Cristi you must make that road and eliminate those 73 stops that increase fuel and brake costs and others," he said.
He added that this road would connect Manzanillo with other provinces of the Northern Region.
Santiago – Puerto Plata Highway
While participating in the Economic Meeting of HOY, the directors of Airen also expressed that they are looking forward to making this "Amber Highway" a reality to connect these provinces in 30 minutes.
Ventura emphasized that there are three cruise ports in Puerto Plata, and others are under construction.
He indicated that the province could not receive so many tourists, so it is urgent to expand to other provinces of the Cibao where there is a diversified and complementary tourist offer.
He said that this access road is vital as a link between tourism, agribusiness, industry, and communities in the Northern Zone, and it is a priority to create this synergy.