Ibero-American businessmen commit to greater investment in the region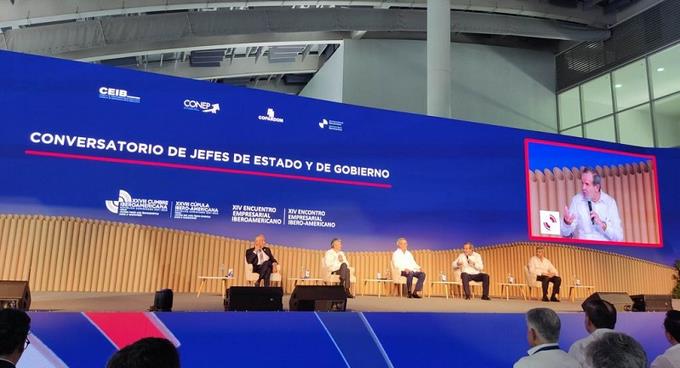 Santo Domingo, DR.
The XIV Ibero-American Business Meeting concludes this Friday with the commitment to continue with "more and better investment" in the region while advocating for a "new social pact" that promotes public-private partnerships and commits "all actors" in sustainable development," leaving no one behind."
In a final document, the Ibero-American businessmen said they want to convey a "clear message about the role of companies in our societies and our region, this great Ibero-America of all of us: without private initiative, there is no development. Entrepreneurs are not the problem but the solution.
They considered that investments should not only be governed by financial and profit maximization criteria but also consider their impact on the environment and society without forgetting solvency.
The document states that Ibero-American businessmen are committed to defending property rights and freedom of enterprise, "key instruments" for reducing transaction costs, improving the allocation of resources, and stimulating innovation.
"We take on the challenge of the digital transformation of our region, driving the improvement of our productivity and competitiveness, overcoming gaps, and encouraging innovation and entrepreneurship," he adds.
The two-day meeting, which has brought together more than 1,500 entrepreneurs according to its organizers, was held in the framework of the XXVIII Ibero-American Summit of Heads of State and Government that officially opens today in the Dominican capital.
"We must recover the attractiveness of our region as a global investment destination, which has declined by 7% in the last ten years in terms of foreign direct investment (FDI)," the text states.
Foreign capital flows are related to the willingness of the investing company to remain in the destination country, the document states, together with interest in establishing productive linkages with the local economy and promoting the transfer and dissemination of technological capabilities and good management practices.
"In order for Ibero-America to achieve truly sustainable development, it is essential to promote economic growth, and for this private investment plays a fundamental role," added the businessmen.
The meeting stated that it is necessary to "strive for freedom of enterprise and economic freedom, two fundamental factors to promote the economic development of our region."
RECOGNIZE THE GENDER GAP
The meeting, organized by the Ibero-American General Secretariat, the Ibero-American Business Council (CEIB), and the Dominican National Council of Private Enterprise (Conep), recognized the existence of "significant gender gaps" that condition the development of our societies.
"We assume the commitment to promote greater integration of women in the business world, avoiding all forms of arbitrary discrimination," they said.
They also pledged to invest in human capital development, making our contribution" in training and technical assistance.
The meeting raised the challenges regarding infrastructure development in the region: "we express our willingness to collaborate in major projects that integrate and connect Ibero-America," they said.
The Ibero-American Business Meeting closes its discussions with the official closing by the Dominican President, Luis Abinader, and the King of Spain, Felipe VI.