Wind energy lags behind solar in renewable projects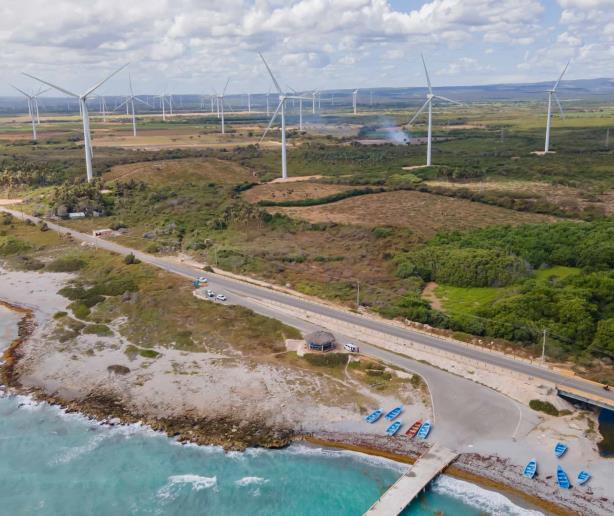 Alex Méndez, a resident of Enriquillo, notes that the wind turbines in the local wind farms continue to fascinate visitors to the municipality. He believes that these turbines are beneficial to the coastal community, which has a population of just over 13,300 in the Deep South. The turbines generate energy that is injected into the National Interconnected Electric System (SENI) and, together with other wind farms, represent 8.22% of the installed capacity of the system, depending on the energy source. However, some residents in this rural, low-income community had hoped that the energy service would be practically free or that the rate would be significantly lower due to the presence of the wind farm.
According to the National Energy Commission (CNE), as of April 2023, the Dominican Republic has an installed wind energy capacity of 417.05 megawatts (MW), which represents 8.22% of the total installed capacity of 5,075.38 MW. This capacity is concentrated in 10 parks, and it is expected that wind power will continue to grow in the country, although at a slower rate than photovoltaic. One of the challenges with wind power is that the cost of technology has not decreased as much as it has for solar.
The CNE has granted four provisional concessions for wind projects, compared to 14 for photovoltaic projects. There are currently no definitive concessions for wind projects due to a lack of transmission infrastructure. However, there are 17 renewable energy projects under construction in the Dominican Republic, with 836 MW of solar and 49 MW of wind energy. The goal is for all of these projects to enter into commercial operation before the end of 2023.
Globally, wind energy continues to grow, with 77.6 GW of new wind power capacity connected to power grids in 2022, bringing the total installed wind capacity to 906 GW, a 9% increase compared to 2021. However, despite the growth in renewable energy, the Dominican Republic is not among the top five markets in the world for new installations, nor is it among the countries that will contribute the most in Latin America.
According to Alfonso Rodríguez, Vice Minister of Savings and Energy Efficiency of the Ministry of Energy and Mines, wind energy projects face challenges related to land ownership. Many landowners claim that they were already using the land and demand high prices when they learn that it may be used for a wind project. However, he notes that the first wind farms in the Dominican Republic were built on land that was already owned by the state, which made the development process easier.