Tony Raful holds an inter-institutional meeting with senior Italian representatives from different sectors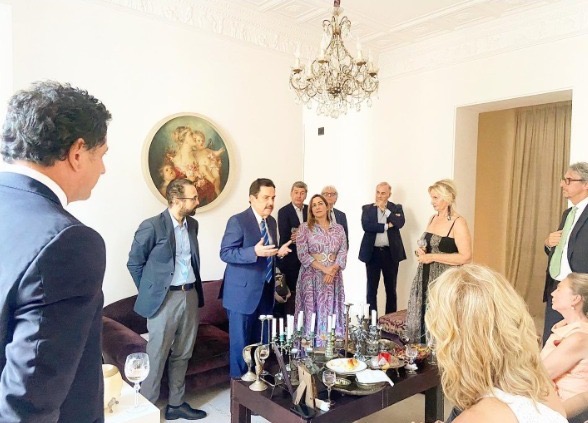 Ambassador Tony Raful recently conducted an inter-institutional meeting with prominent Italian representatives in the fields of culture, science, sports, and defense diplomacy. The meeting, led by the NGO Visionando and attended by lawyer Antonella Succi and Lic. Licia Colombo, aimed to foster joint initiatives and promote inter-institutional cooperation.
During the meeting, Ambassador Raful, accompanied by Michelle Guzmán from the commercial section and Joaquín Taveras from the cooperation and culture section, expressed gratitude to the attendees. They exchanged opinions and discussed collaborative projects for the development and implementation of actions to enhance inter-institutional cooperation.
Ambassador Raful presented a comprehensive overview of relevant aspects of cooperation for the Dominican Republic, including commercial, academic, and cultural projects outlined in the Mission's operational plan. These projects encompassed initiatives such as the exhibition of the Cemí archaeological piece of Taino cotton from the University of Turin, cooperation and trade agreements, orange tourism, naval exchange in anticipation of the arrival of the Amerigo Vespucci at the port of Santo Domingo, and participation in upcoming sports events like the Milano Cortina Games in 2026.
The meeting was attended by various distinguished individuals, including Honorable Sandra Cioffi, a Deputy of the Republic, Professor Broz from the American University of Science and Technology, Vincenzo Sanasi d'Arpe, President of the World Food Program Italy (WFP Italy), Raimondo Astarita, Commissioner of the upcoming Milano Cortina 2026 Games, and members of the Grimaldi Alliance law firm, with lawyer Stefano Bianchi playing a significant role in the mediation. Lawyer Lieutenant Colonel Federica Mondani represented the Italian Armed Forces.