Electric scooters a growing trend in the country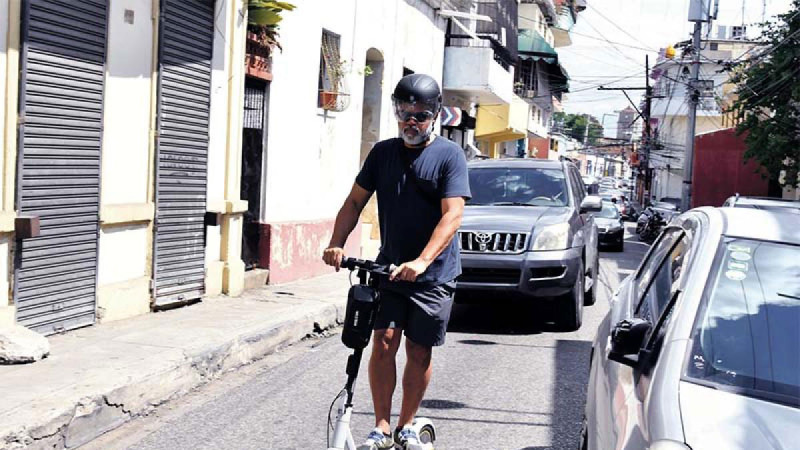 In the streets of Greater Santo Domingo there is an increase in the number of young people using this type of transportation.
Santo Domingo.- It is increasingly common to find young (and not so young) people on the city streets darting between cars, motors, buses, and other vehicles to get to their workplaces or the university.
The extensive traffic jams in Greater Santo Domingo and the facilities that electric scooters offer as a means of transportation that is not so expensive do not require much parking space, and that allows one to transit with less difficulty on public roads.
The use of this type of transport has increased significantly, especially after the National Institute of Transit and Land Transport (Intrant) issued the regulations for their service and the speeds at which they must be driven, just like the bicycles in the bicycle lanes, this was indicated by the engineer Charles Sanchez, president of Zero EmisiónRD when consulted by Listin Diario.
"Today we have a very significant quantity of electric scooters in the country," said Sanchez, referring that the demand for them encourages the importing sector to acquire larger quantities and different models.
He said over 50 electric scooters are sold monthly at around RD$32,000 plus ITBIS. The most significant demand comes from young professionals looking for a fast and fun means of transportation that gives them the sensation of freedom.
Different companies dedicated to promoting electric vehicles offer various types of scooters; among them are: Celeste Motors, Fly e-Bike, ZeroemisionRD, and Eve, almost all located in Santo Domingo.
Benefits
Dodge traffic, contributing to the environment, and arriving with less inconvenience to their destination are many of the advantages that users of this type of transport refer to. However, it should be added that they help to get rid of stress through the feeling of freedom felt by those who use them and contributes to improving health by the exercise required for their use.
These technological devices do not operate by burning fossil fuels and do not generate CO2 emissions, and this makes them ecological and sustainable vehicles.
Risks and disadvantages
In a tropical country like ours, electric scooters have a few disadvantages that prevent them from being more widely used.
One of the main disadvantages is the limited capacity of use in bad weather and the user's lack of protection against puddles, holes, and other situations typical of lousy weather.
Even if the heat is intense, this transport will cause profuse sweating, making you arrive with wet clothes to where you are going.
Likewise, exposure to the sun can cause skin damage if you do not use adequate protection for the duration of the transport to your destination.
Another difficulty is the user's risk when there are no delimited spaces in the city for the transit of bicycles and skateboards, as vehicles and motorists can be reckless and threaten their physical safety. The issue of battery life can also be a disadvantage.
Using Regulatory Resolution 009-2023, dated June 6, 2023, Intrant limited the speed of electric scooters to a maximum speed of twenty kilometers per hour (20 km/h) and bicycles to 45 km on highways and 32 km in the mountains.