Ambassador of Israel suggests that the Dominican Republic take benefits from sargassum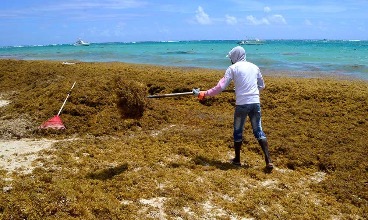 Santo Domingo.- The Israeli ambassador to the Dominican Republic, Daniel Biran, expressed optimism about turning the sargassum problem into an opportunity for the country. He believes that the Dominican Republic can capitalize on the seaweed issue by transforming it into value chains for coastal communities and the nation as a whole.
Biran highlighted the collaboration Israel has offered to the country in tackling the sargassum problem. He also mentioned the interest of Israeli companies in investing in the Dominican Republic to combat the seaweed issue. The focus is on finding recycling solutions and creating green energy from the sargassum.
The ambassador emphasized that sargassum is not just a concern for the Dominican Republic but for the entire Caribbean region. He believes that regional cooperation is essential in finding solutions and potentially benefiting from the sargassum, such as generating revenue from its use. Together with the Dominican Government, the tourism sector, and Grupo Puntacana, they are working to mitigate the impact of sargassum on the coasts.