US Chargé d'Affaires and Amchamdr discuss priorities to boost business relationships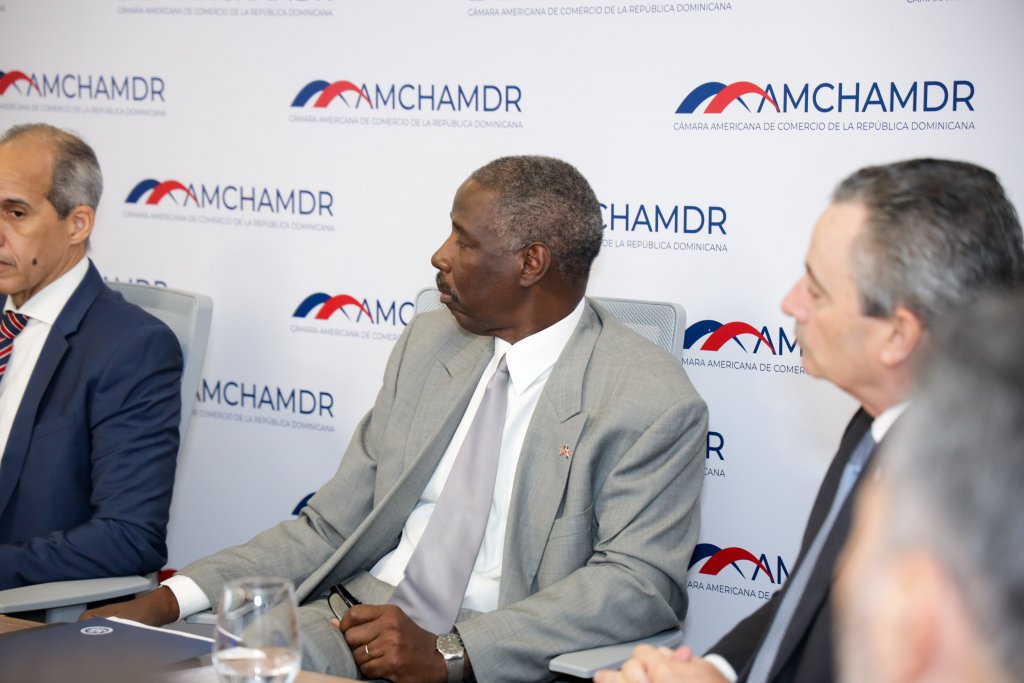 Santo Domingo.- Strengthening the productive and significant alliance between the American Chamber of Commerce of the Dominican Republic (Amchamdr) and the United States Embassy in the country, the Board of Directors of Amchamdr convened on Tuesday for a meeting with Isiah Parnell, Head of Business at the United States embassy in the Dominican Republic. The event also included the participation of other members from the US diplomatic mission as well as representatives from the United States Agency for International Development (USAID).
Isiah Parnell conveyed his gratitude for the invitation and extended congratulations to Amchamdr on its centennial anniversary. The US diplomat reaffirmed the dedication of the US Embassy to further bolster trade, diplomatic relations, and cultural ties between the two nations. He underscored the pivotal role of close collaboration with Amchamdr in advancing economic development and trade between the Dominican Republic and the United States.
The charge d'affaires emphasized that the Embassy is committed to contributing to the country's advancement across various domains including transparency, rule of law, human rights, citizen security, and more.
The meeting also featured the insights of Patricia Aguilera, Minister Counselor of the United States Embassy in the Dominican Republic. She emphasized the critical significance of bilateral cooperation in tackling shared challenges and fostering sustainable growth.
Edwin De los Santos, President of Amchamdr, warmly welcomed Isiah Parnell. This encounter marked the initial formal interaction between Amchamdr and the new representative of the United States Embassy. It provided an opportunity to reiterate the commitment to fortify trade relations between both nations.
William Malamud, the Executive Vice President of Amchamdr, outlined the institutional priorities of the Chamber to Parnell and the attendees. He highlighted the Chamber's value proposition, which revolves around connecting and representing its members. Additionally, he spotlighted the key focus areas for the year 2023, which encompass the nearshore and Logistics Hub, digital transformation, cybersecurity, rule of law, sustainability, and resilience. These domains mirror the Chamber's dedication to fostering sustainable economic growth and innovation within the Dominican Republic.
In the same vein, Steven Puig, President of the Business Council of the Alliance for Development in Democracy (ADD + Business Council), presented Parnell with the priorities of ADD and the advancements achieved through this business association thus far.
The meeting concluded with a mutual commitment between Amchamdr and the US Embassy to continue working closely in tandem. Their joint efforts aim to promote the commercial interests and economic development of both countries, emphasizing the robust ties that connect them.