Free trade zone sector created 196,290 jobs in June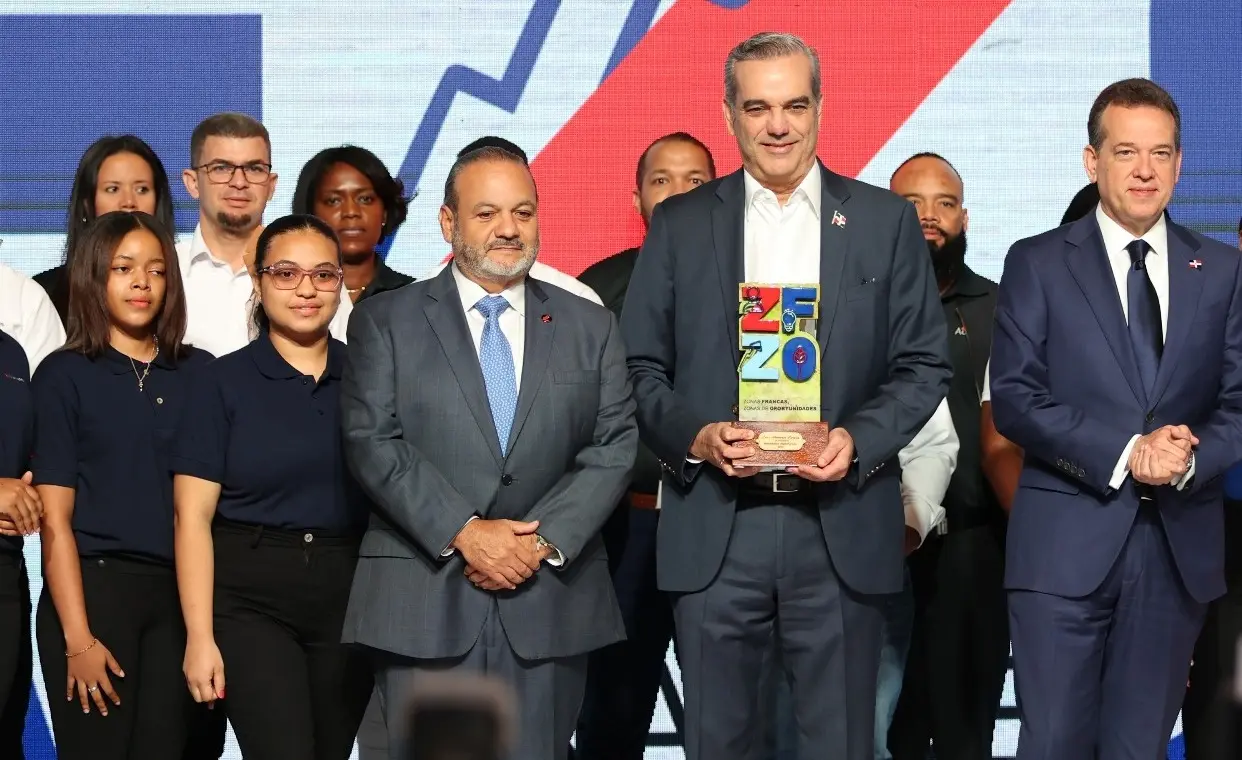 President Luis Abinader was recognized by Adozona. José de León
Santo Domingo.- Exports from free trade zones totaled US$768 million in June, a growth of 8.4% compared to June 2022. Direct employment in free zones totaled 196,290 at the end of June, the highest level in their history, and is expected to exceed 200,000 direct jobs soon, said the Minister of Industry, Commerce and Mipymes, Victor Bisonó.
He indicated that the free zones constitute one of the main generators of employment in the country. In several provinces, their incidence represents close to one out of every four formal private jobs, as is the case of Santiago, as well as approximately 40% of the employment in San Cristóbal, 39% in Pedernales, and more than 22% in San Pedro de Macorís.
"There is an increase of more than 14% compared to the closing of 2020. This is more than 24,300 new direct formal jobs in just three years," expressed Bisonó during the "Free Trade Zones, Zones of Opportunities" event with Adozona.
In addition, in June, exports from these zones totaled US$768 million, the highest value for this month in their history, and compared to June 2022, there was a growth of an additional US$59 million (8.4%).
And at the close of this first semester of the year, it represented 65% of Dominican exports, that is US$4,039 million.
Bisonó said they expect that by the end of this year, they would surpass the US$8 billion threshold. He noted that these exports are also experiencing a growing diversification in destinations and products exported, evolving towards more specialized goods and services.
In addition, nine new export destinations have been added in the last three years, including Mozambique, Montenegro, and Algeria.
To date, there are 804 companies and 86 parks in operation. From August 2020 to July 2023, 254 new companies have been approved, expected to generate some 40,939 new direct jobs, with an estimated investment of US$606 million.
To grow
The president of the Dominican Association of Free Zones (Adozona), Luis Bonilla, said that for the sector to continue to grow, it requires trained human capital that responds to the needs of the companies and allows them to expand and integrate cutting-edge technology into their processes. It is also essential to continue receiving government support to develop an aggressive international promotion program, with the participation of both the public and private sectors, to attract the new investments required to continue diversifying its export matrix.