Destructive impact of Franklin Storm: Agricultural losses exceed 1 billion pesos in Dominican Republic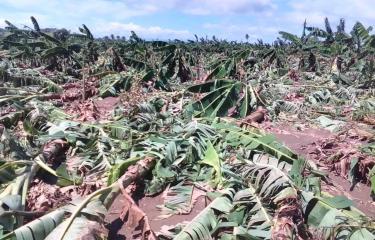 Santo Domingo.- The Minister of Agriculture, Limber Cruz, stated today that the aftermath of the Franklin storm caused greater damage as it moved away from the country, especially in the northern zone. Preliminary data suggests that crop destruction will surpass 1 billion pesos. This unusual phenomenon, characterized as "atypical," brought heavy rainfall from its remnants, flooding rice and banana plantations and leading to rivers overflowing in areas with minimal previous rainfall during its passage through the Dominican Republic last Wednesday.
Additionally, a tornado formed in La Vega yesterday due to sudden temperature changes, resulting in significant consequences for banana plantations and poultry farms in communities like Arroyo Hondo de Cutupú, El Quemado, Los Núñez, Los Pilarte, and Bonagua. The total losses from this event are still being assessed. In Constanza and Jima, the overflow of the Tireo and Bajo Yuna rivers inundated horticultural and rice fields, respectively.
Municipalities like Moca and Nagua also reported agricultural damage during the storm. The Minister of Agriculture mentioned that nine towns have been confirmed to be affected so far.
The head of the agricultural department stated that initial estimates indicate agricultural losses from the Franklin storm amount to 519 million pesos in the province of Azua and the towns of Yamasá (Monte Plata) and Hacienda Estrella (Santo Domingo Norte). However, he expects this figure to surpass 1 billion pesos due to the events of the past two days. A meeting at the Ministry of Agriculture is scheduled for Monday to conduct more precise evaluations for accurate loss estimation. Quantifying the losses is challenging due to damaged roads and inaccessible areas caused by the storm.
To mitigate losses, the Price Stabilization Institute (Inespre) purchased over a million bananas from producers in Azua, aiming to prevent further waste and support producers. Both organic and conventional bananas will be sold at 1 peso each in Inespre's programs. The director of Inespre also mentioned the delivery of more than 2,000 food rations to storm-affected areas. Inespre will continue inspecting other parts of the country that require assistance.